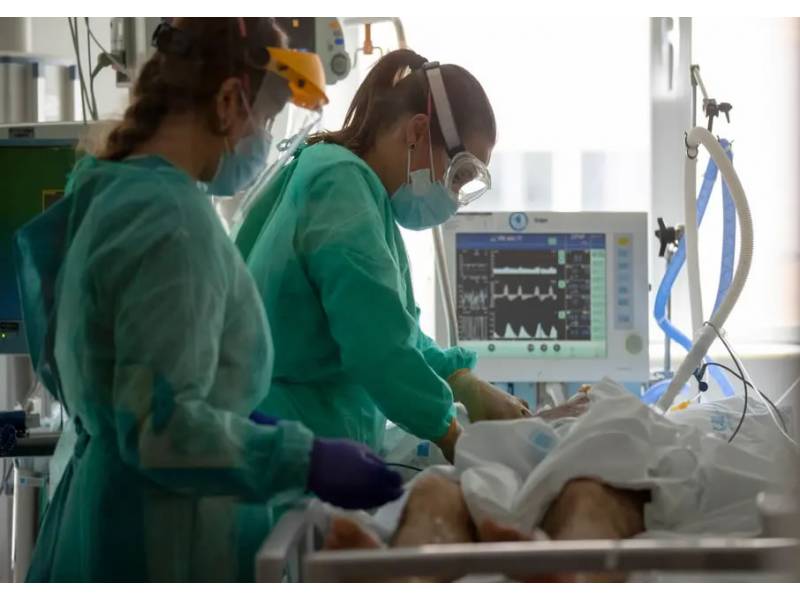 Covid update: 1,482 new cases today in the Canaries; 1,000 of them in Tenerife
The Ministry of Health has yet again reported a record number of new cases today with 1,482 new infections detected in the last 24 hours, at a positivity rate of 13.53% of PCR tests done. Of the new cases, Tenerife also sets a new record with 1,000 new cases on the island, there are 342 in Gran Canaria, 61 in Lanzarote, 47 in Fuerteventura, 24 in La Palma, 5 in La Gomera, and 3 in El Hierro.
They have also confirmed that ICU admissions of Covid patients have increased by 10% in the last 24 hours, and that there has been one more Covid related death in Tenerife.
Blas Trujillo, the Minister for the Canary Islands, has also revealed that, at present, there are four children under the age of eight who are admitted to different hospitals in the Islands due to COVID-19.
Data for Thursday 16th December 2021:
(updates are against yesterday's figures)
New cases: 1,482
Tenerife: 1,000
Gran Canaria: 342
Lanzarote: 61
Fuerteventura: 47
La Palma: 24
La Gomera: 5
El Hierro: 3
Current Incidence rate (IA7): 251.38
(Cases last 7 days: 5,473)
Tenerife: 336.53
Fuerteventura: 324.06
Gran Canaria: 187.02
Lanzarote: 161.09
El Hierro: 98.68
La Palma: 95.86
La Gomera: 69.19
Current Incidence rate (IA14): 370.60
(Cases last 14 days: 8,065)
Fuerteventura: 592.16
Tenerife: 439.48
Gran Canaria: 312.09
Lanzarote: 268.91
La Palma: 171.34
El Hierro: 134.57
La Gomera: 124.55
General:
Covid patients in hospital: 263 (+6)
Covid patients in ICU: 58 (+6)
Home isolation: 8,303
R number: 1.01(needs to be below 1)
PCR test positivity rate: 13.53% (should be below 4.5%)


Vaccination:
Total administered: 3,541,932
Fully vaccinated: 1,697,746 people (86.59%)
One dose: 1,712,740 people (87.35%)
Booster doses: 361,855
Children aged 5-11: 2,112 (1.54%)
Target: 1,960,774 (population over 12 years old)

Deaths last 24 hours: 1
Tenerife: 1 (604)
Total deaths: 1,075

Medical Discharges in last 24 hours: 245
Gran Canaria: 107
Tenerife: 97
Lanzarote: 36
Fuerteventura: 2
La Palma: 2
La Gomera: 1
El Hierro: 1


Total Active cases per island:
Total: 9,848
Tenerife: 4,943 (+902)
Gran Canaria: 3,437 (+235)
Fuerteventura: 986 (+45)
Lanzarote: 317 (+25)
La Palma: 124 (+22)
La Gomera: 26 (+4)
El Hierro: 15 (+3)

Municipalities with most active cases in each island:
2,885 in Las Palmas (Gran Canaria)
2,402 in Santa Cruz (Tenerife)
1,137 in La Laguna (Tenerife)
542 in Puerto del Rosario (Fuerteventura)
325 in La Oliva (Fuerteventura)
268 in Arona (Tenerife)
267 in Arrecife (Lanzarote)
211 in Adeje (Tenerife)
159 in Granadilla de Abona (Tenerife)
137 in San Bartolomé de Tirajana (Gran Canaria)
119 in Santa Lucia de Tirajana (Gran Canaria)
116 in Puerto de La Cruz (Tenerife)
104 in Telde (Gran Canaria)
62 in Guia de Isora (Tenerife)
24 in Mogán (Gran Canaria)
22 in San Miguel de Abona (Tenerife)
15 in Santiago del Teide (Tenerife)
(Please note this is not all municipalities, it represents the most infected and tourist areas)