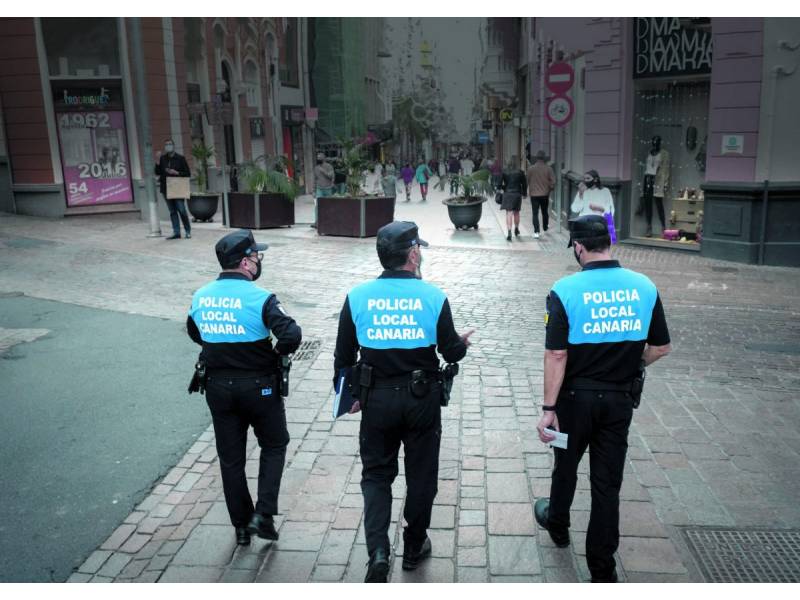 Covid update: Merry Christmas and a Happy New Lockdown?
There comes a point where you have to ask where is this heading? The government keeps imposing restrictions, but people keep ignoring them. A large proportion of those people are the same ones that keep complaining that they want this to be over but don't want to follow restrictions to help it be over. So, where is this heading, taking into account that today there are 1,207 new infections, the highest daily number of new cases since the pandemic began.
Today's data is the final one that will be included in the weekly review for the evolution of the pandemic over the last week, and as you can already work out, it is not good reading. 4,410 new cases in the last 7 days, 7-day incidence rate of 202.58, a 14-day incidence rate of 324.46, hospitalisations are increasing, and the rate of contagion has increased.
The worst data is currently in Fuerteventura who has a 7-day incidence rate of 319.05, a 14-day incidence rate of 601.34 and was moved to Level 3 two weeks ago. In tomorrow's review, the island could quite easily go to Level 4 as the indicators are already in that territory.
Many in Tenerife and Gran Canaria will be happy that the islands have only just been moved into Level 2 as that means we are safe. NO, it doesn't. Under the decreed rules of the Ministry of Health, an island can be moved up a level at any time, it is only when coming down a level that the 14 day review of data applies.
This means that if, and it is only an if for now, the data for particularly Tenerife is not seen as a trend yet, a change won't be made. However, today the island has had 792 new cases detected in just 24 hours, now has over 4,000 active cases, has a 7-day incidence rate of almost 250, a 14-day incidence rate of over 350, and hospital pressure of 88%.
Given all this and the fact that we are still 10 days from Christmas, what options will the Government have to prevent the spread of the virus, or stop people shunning the regulations? Lockdown? No. Curfew? Possibly. We don't know, and at the moment, do they? And by the way, is this scaremongering? No. A reality check? YES.

Data for Wednesday 15th December 2021:
(updates are against yesterday's figures)
New cases: 1,207
Tenerife: 792
Gran Canaria: 270
Fuerteventura: 70
Lanzarote: 60
La Palma: 9
El Hierro: 4
La Gomera: 2
Current Incidence rate (IA7): 202.58
(Cases last 7 days: 4,410)
Fuerteventura: 319.05
Tenerife: 248.01
Gran Canaria: 165.05
Lanzarote: 141.20
La Palma: 82.68
El Hierro: 98.68
La Gomera: 50.74
Current Incidence rate (IA14): 324.46
(Cases last 14 days: 7,061)
Fuerteventura: 601.34
Tenerife: 352.25
Gran Canaria: 294.32
Lanzarote: 243.24
La Palma: 160.56
La Gomera: 119.94
El Hierro: 107.65
General:
Covid patients in hospital: 256 (+6)
Covid patients in ICU: 52 (+1)
Home isolation: 8,303
R number: 1.01(needs to be below 1)
PCR test positivity rate: 11.45% (should be below 4.5%)


Deaths last 24 hours: 3
Tenerife: 2 (603)
Gran Canaria: 1 (371)
Total deaths: 1,074

Medical Discharges in last 24 hours: 262
Gran Canaria: 130
Tenerife: 120
La Palma: 5
La Gomera: 3
Lanzarote: 2
Fuerteventura: 1
El Hierro: 1


Total Active cases per island:
Total: 8,612
Tenerife: 4,041 (+670)
Gran Canaria: 3,202 (+139)
Fuerteventura: 941 (+69)
Lanzarote: 292 (+58)
La Palma: 102 (+4)
La Gomera: 22 (-1)
El Hierro: 12 (+3)

Municipalities with most active cases in each island:
2,699 in Las Palmas (Gran Canaria)
2,059 in Santa Cruz (Tenerife)
857 in La Laguna (Tenerife)
520 in Puerto del Rosario (Fuerteventura)
309 in La Oliva (Fuerteventura)
249 in Arrecife (Lanzarote)
240 in Arona (Tenerife)
172 in Adeje (Tenerife)
153 in Granadilla de Abona (Tenerife)
127 in San Bartolomé de Tirajana (Gran Canaria)
111 in Santa Lucia de Tirajana (Gran Canaria)
99 in Telde (Gran Canaria)
89 in Puerto de La Cruz (Tenerife)
47 in Guia de Isora (Tenerife)
21 in Mogán (Gran Canaria)
18 in San Miguel de Abona (Tenerife)
10 in Santiago del Teide (Tenerife)
(Please note this is not all municipalities, it represents the most infected and tourist areas)