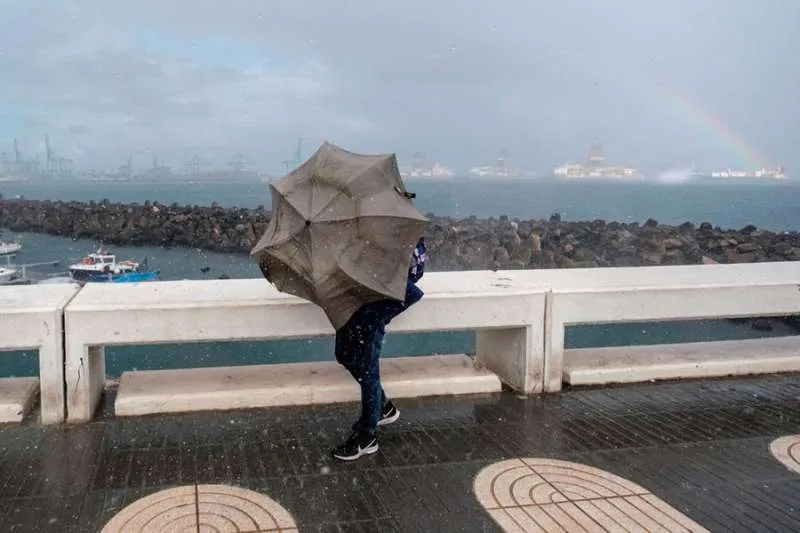 Yellow weather warning is activated in the Canary Islands for the weekend
The State Meteorological Agency (AEMET) has activated a yellow weather warning in the Canary Islands for rain and strong winds for tomorrow (Saturday) and all day Sunday.
Rain and possible snow at peaks is expected in the western islands, which are expected to be more intense in La Palma and El Hierro, with localised showers in Tenerife and La Gomera, but weak and scattered rainfall in the north of Gran Canaria is also not ruled out.
The already cold minimum temperatures are expected to drop slightly again, wheras maximum temperatures will experience a slight rise, with up to 22 degrees forecast in Tenerife and Gran Canaria.
The warning is also for very strong gusts of wind in areas of the western islands, especially at the summits of La Palma, La Gomera, in the area of ​​El Golfo and Anaga in Tenerife, with winds up to 70 kilometres per hour.
The two most eastern islands, Lanzarote and Fuerteventura, don't have a weather warning and are forecast to have calm and sunny days with some cloudy intervals.
On Sunday, the yellow warning will continue in the Islands, the rain will be in more areas, including Lanzarote and Fuerteventura, but are expected to be heaviest on the western and southern slopes of Tenerife Gran Canaria, and La Palma.
Winds will continue to be strong from the southwest, with very strong gusts in the central peaks of Tenerife. Temperatures will basically be the same as Saturday, with a high of 23 degrees and a low of 15, then on Monday it is expected to clear up.
Other articles that may interest you...