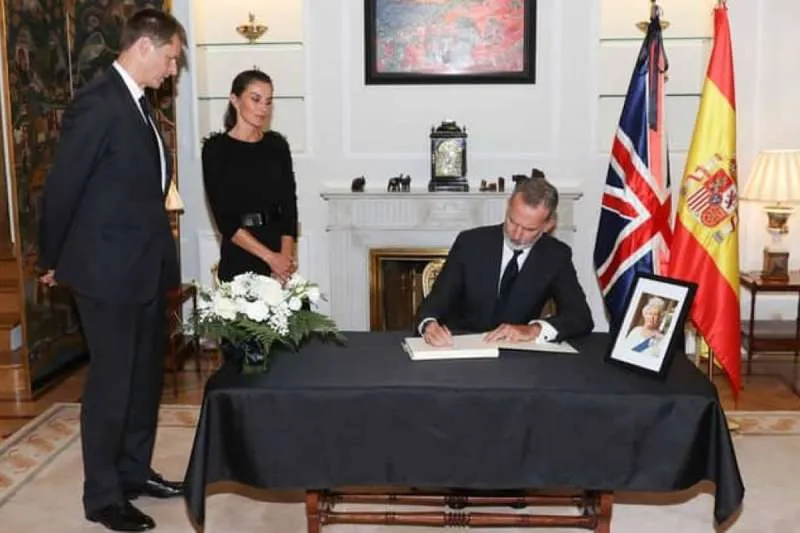 Two books of condolences for the death of The Queen are open in Tenerife and Gran Canaria
The British Embassy has opened a book of condolences to the public for the death of Elizabeth II, in seven Spanish cities, including Las Palmas in Gran Canaria, and Santa Cruz in Tenerife. Yesterday the King and Queen of Spain and Prime Minister, Pedro Sanchez, signed the book at the British Ambassador's residence in Madrid to show their respect for the passing of The Queen.
The embassy released a statement yesterday (Saturday) confirming that the book of condolences is open from 12:00pm to 4:00pm at their consulates in the two Canary's capital cities, and at the moment there is no closing date for people to sign it.
The embassy points out that "it is not necessary to request an appointment for the signing, but people need to go with formal identification and comply with the security measures in place."
In addition to these, books of condolence are also available to sign in the cities of Alicante, Barcelona, ​​Bilbao, Ibiza, Malaga and Madrid.
With this, British citizens residing in the Canary Islands, and those of other nationalities who wish to express their condolences, will be able to do so after the death of Queen Elizabeth II on Thursday at the age of 96, who has now been succeeded by her son, King Charles III.
The British Consulates in Tenerife and Gran Canaria can be found at these addresses:
British Consulate Santa Cruz de Tenerife
Plaza Weyler, Nº 8, 1st floor,
38003 Santa Cruz de Tenerife.
British Consulate Las Palmas de Gran Canaria
Calle Luis Morote, Nº 6-3rd floor,
35007 Las Palmas de Gran Canaria.
More than 280,000 British people live in Spain, according to the National Institute of Statistics (INE), with the highest amounts in Andalusia and the Valencian Community.
Other articles that may interest you...