Two Canaries based rent a car companies top the latest Which? survey
The cost of renting a car has skyrocketed in recent years, and if you're already paying through the nose, the last thing you need is poor customer service, or to be hit with hidden or unfair extra charges. That's why it's so important to choose the right car hire company, and the good news is that the latest Which? survey finds that the two top-rated companies, which are also the cheapest, are here in the Canary Islands.
Customers have been singing the praises of Auto Reisen and Cicar for several years now, and their popularity has not waned for 2023, as they finished in first and second place on the list.
However, when you're at the desks at the airport, avoid Goldcar who finished bottom of the list and are also found here.
Which? asked thousands of their members to tell them their experiences of using various companies. Firms were compared on a range of criteria, including the clarity of information provided on extra charges, insurance costs, and terms and conditions, as well as the process of picking up and dropping off the car.
One in seven people said that they ended up paying more than the price they were originally quoted, with insurance being the main thing that bumped up the cost.
Many of those questioned admitted that they took out an extra policy when they went to collect the car because they felt under pressure by the agent, despite having already arranged their own cover before leaving home, or being told that policies from external companies didn't cover them.
Not only is pressure-selling illegal, but the policies they try to up sell are often inferior and far pricier than those available from third parties online.
Here are the results from the 2,657 members of Which? Connect who shared their experience of using a car hire company in the past two years.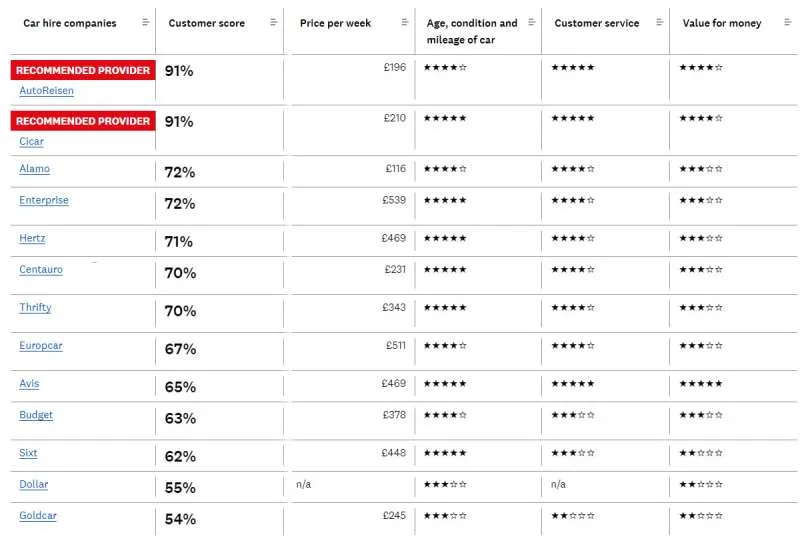 Click here to see the Which? article.
Only those car hire companies that were top of the table and met their consumer-focused criteria are eligible for Which? Recommended Provider status.