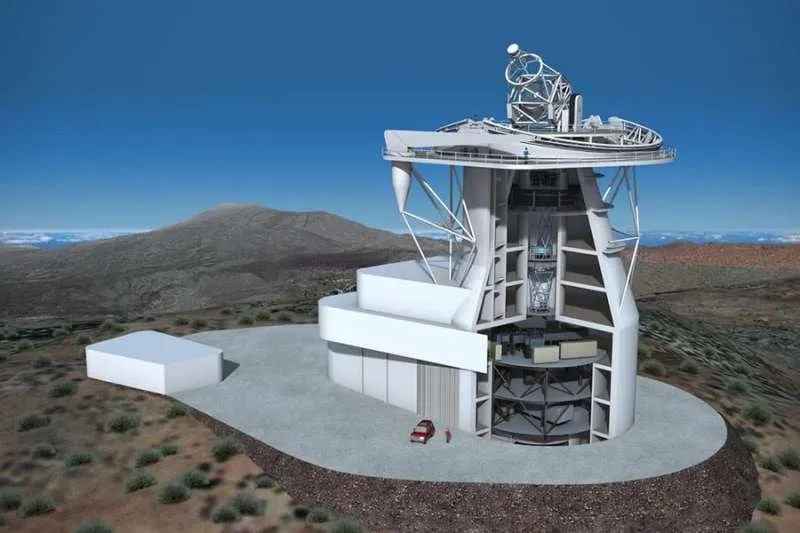 The new European Solar Telescope is being constructed in La Palma
The new European Solar Telescope, with a mirror of 4.2 metres in diameter and a height of 44 metres, will be the largest solar telescope in Europe and is being constructed in La Palma. The project is being presented to the CSIC (Superior Centre for Scientific Research) in Madrid on Tuesday (May 3rd) and construction starts in 2024.
The new infrastructure will be located in the area of ​​the Swedish (TSS) and Dutch (DOT) Solar Telescopes at the Observatory in Roque de Los Muchachos, after the decision on its location was agreed upon last year by the international scientific committee of the Canary Islands observatories.
The aim is for it to be fully operational in 2029 to boost research on the Sun in Europe, as it will have an advanced adaptive optics system, a technology designed to reduce image distortions caused by atmospheric turbulence.
With this telescope, known as the EST, it will be possible to distinguish structures on the surface of the sun of 30 kilometres in size, and it will be possible to make high-precision measurements of the Sun's magnetic fields, according to the report from the Institute of Astrophysics in the Canary Islands into its use.
The EST design will strongly emphasise the use of a large number of visible and near-infrared instruments simultaneously, thereby improving photon efficiency and diagnostic capabilities relative to other existing or proposed ground-based or space-borne solar telescopes.

Why La Palma?
The Roque de los Muchachos Observatory (ORM) is located in the municipality of Garafía and is operated by the Instituto de Astrofísica de Canarias, based in Tenerife, and is part of the European Northern Observatory.
The seeing statistics at ORM make it the second-best location for optical and infrared astronomy in the Northern Hemisphere, after the Mauna Kea Observatory in Hawaii.
The site has some of the most extensive astronomical facilities in the Northern Hemisphere; its fleet of telescopes includes the 10.4m Gran Telescopio Canarias, the world's largest single-aperture optical telescope as of July 2009, the William Herschel Telescope (second largest in Europe), and the adaptive optics corrected Swedish 1-m Solar Telescope.
Other articles that may interest you...