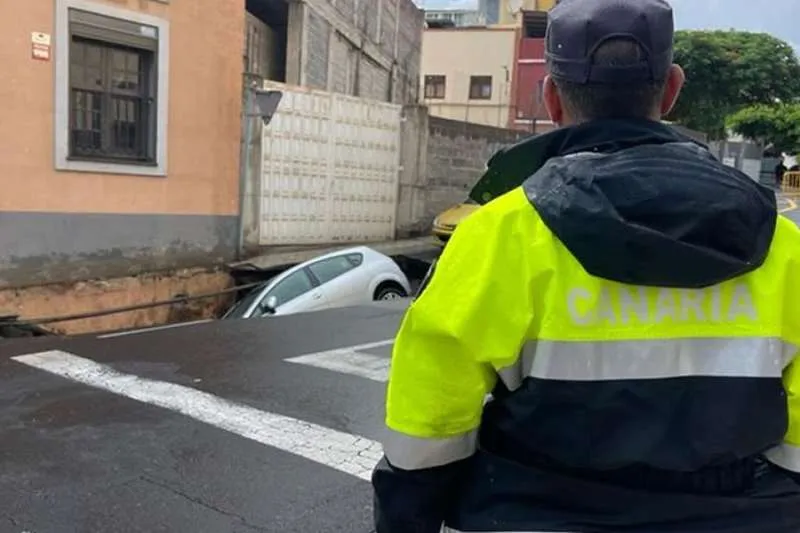 Tenerife suffers the worst from intense rain with several incidents reported
The arrival of a DANA (Isolated Depression at High Levels) in the Canary Islands, caused intense but brief rain yesterday in areas of Tenerife, La Palma, El Hierro, and Gran Canaria, an island that had already suffered the effects of a storm on Sunday, when it flooded two lanes of the GC-1 motorway and temporarily closed the Gando Airport.
Yesterday, the main area affected was the north of Tenerife, and in particular the municipality of La Laguna, with about 60 incidents reported by the Emergency Services (CECOES), but the most serious being the collapse of a street which dragged a car into a sink hole.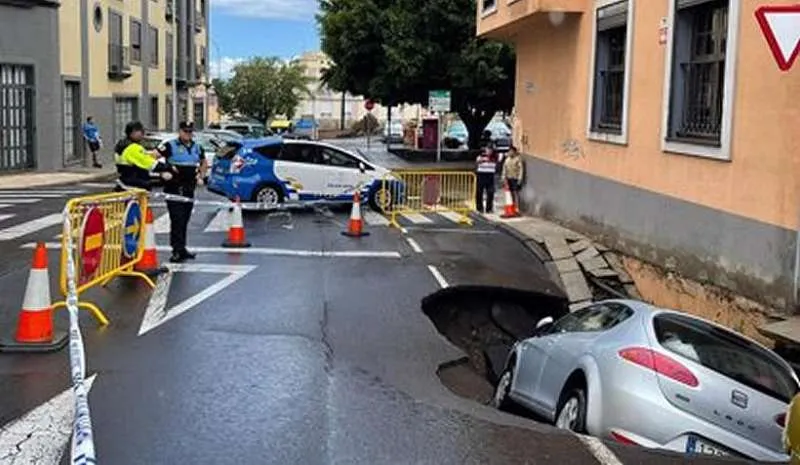 This incident took place on Calle de San Juan and left a car almost buried and great concern for homeowners adjacent to it who are waiting for a safety report from urban technicians to inform them of any damage.
In principle, no structural damage was noted, so the building was not evacuated. Needless to say, the road in question was closed to traffic from the start.
In the rest of Tenerife, the island most affected yesterday by the rain, there was rain in the south of the island, which was heaviest in high inland areas and Granadilla, it was in the early afternoon when such rainfall began to have serious consequences by becoming intense over the metropolitan area, although it was in the municipality of Ciudad de Los Adelantados where most of the incidents recorded by CECOES took place.
Other than the sinkhole, the other incidents that occurred were related to the lack of maintenance of public infrastructures, with drains overflowing and roads and streets flooding due to the intense rain.
Other articles that may interest you...