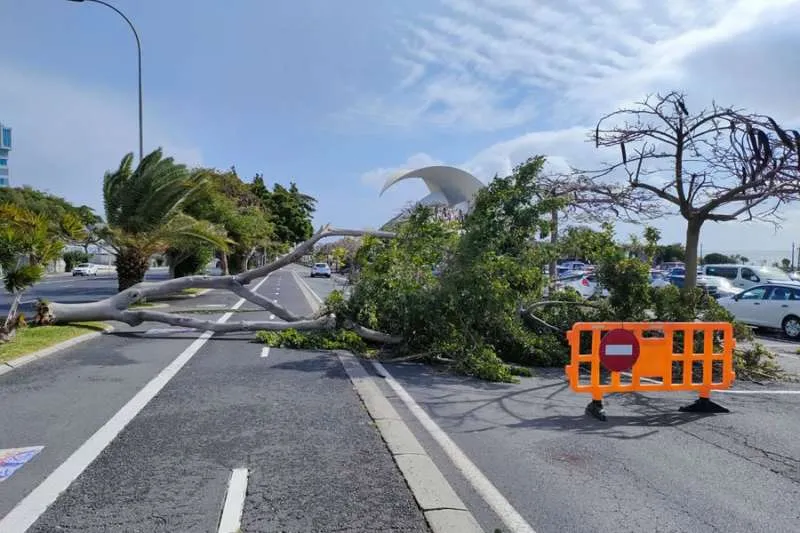 STORM CELIA: 90kmh winds, over 100 emergency incidents, and schools closed
Storm Celia has made her presence felt across the Canary Islands this morning with orange weather warnings extended until tomorrow night (Tuesday), teaching and extra-curricula activities suspended this afternoon, and over 100 incidents reported to the emergency services.
SCHOOLS CLOSE EARLY:
The Ministry of Education has suspended the teaching and extracurricular activity program for this afternoon (Monday) in non-university educational centres. Schools have already been told and parents are now being informed that schools are closing early.
130KMH WINDS IN TENERIFE:
The State Meteorological Agency (AEMET) has extended the orange warning for significant risk in the Canary Islands, and practically, the entire Archipelago is now at risk due to high winds and strong waves, as well as snow on the more mountainous islands (Tenerife and La Palma).
Gusts of wind are forecast up to 130 kilometres per hour at peaks and high areas of Tenerife, and up to 90kmh in other areas.
PARKS AND OUTDOOR ACTIVITIES CLOSED IN GRAN CANARIA:
The City Council of Las Palmas de Gran Canaria has suspended outdoor activities this afternoon and has temporarily closed fenced parks due to the weather alert for strong gusts of wind and the risk of coastal phenomena.
OVER 100 EMERGENCY INCIDENTS:
The emergency services have reported they are operating to absolute capacity having received calls for over 100 incidents for building damage, billboards, and walls blown over, sea rescues, trees blown over, and several other situations which there is too many to list.
One includes a wall that fell on a bus in Las Palmas, a woman who was hit by a falling traffic light in Santa Cruz, and a roof being ripped off a nightclub in Costa Adeje.