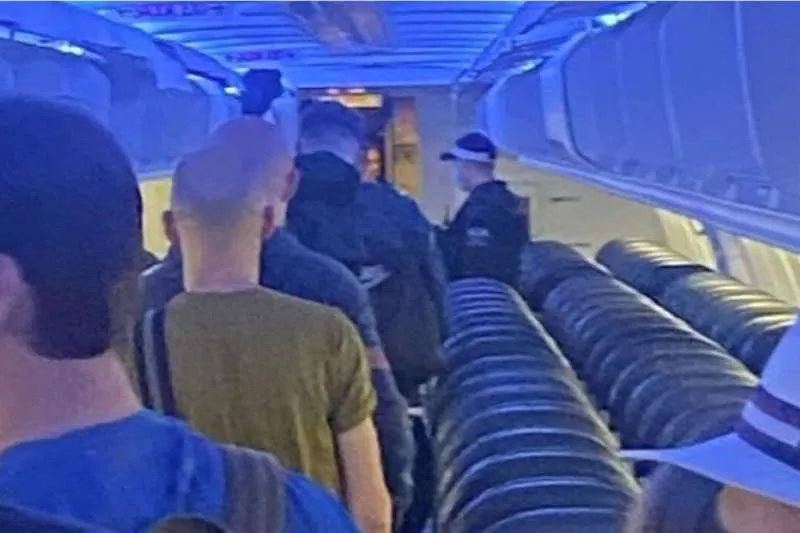 Pilot calls police to let passengers off TUI plane bound for Tenerife
Holidaymakers are facing even more travel chaos after thousands of families saw their holidays disrupted today, with even more TUI flights cancelled and painfully long queues at Bristol and Manchester Airport from 4am this morning.
Travel plans for the Jubilee bank holiday have been thrown into disarray after a 'shambolic' week of flight cancellations as the staffing crisis continues to cause mayhem at Britain's airports.
Families returning from their holidays have also complained of 'three-hour delays' and 'abandoned luggage' just left in piles at Manchester Airport's baggage reclaim area.
One pilot was forced to call the police to help hundreds of passengers disembark an 'abandoned' plane after they were left sitting on the runway for three hours due to staff shortages.
Holidaymakers were left on board the aircraft at Manchester Airport on Monday evening, with the TUI flight due to take off for Tenerife, before officers were called in by the crew. Families had already been delayed by a few hours in boarding the plane, which was due to depart at 5.50pm, eventually getting into the craft at 7pm.
The ground crew took so long to load luggage that the flight was cancelled, before 'abandoning' them on the tarmac. Passengers were then stuck waiting inside the hot plane for three hours before being helped off the aircraft by police by 10pm, some three hours later.
TUI confirmed that 'operational issues' had delayed the flight to Tenerife, and said that all customers were given a new departure time on Tuesday, as well as an overnight stay in a hotel.
A spokesperson for the company said: 'We'd like to apologise to customers travelling on flight TOM2106 from Manchester to Tenerife on Monday May 30th, which was unfortunately delayed due to operational issues.
Transport secretary Grant Shapps said airport and travel firms bosses needed to do more to help customers, as he insisted the government had 'done their bit'.
Last night (Tuesday), passengers on a British Airways flight that had landed at Heathrow Airport were encouraged to Tweet the company for help after the lack of ground crew meant no one could bring stairs to the plane's doors.
Yesterday, EasyJet cancelled 42 Gatwick flights, British Airways scrapped some of its departures, and TUI said that it will cancel six flights a day from Manchester Airport throughout June.
Other articles that may interest you...