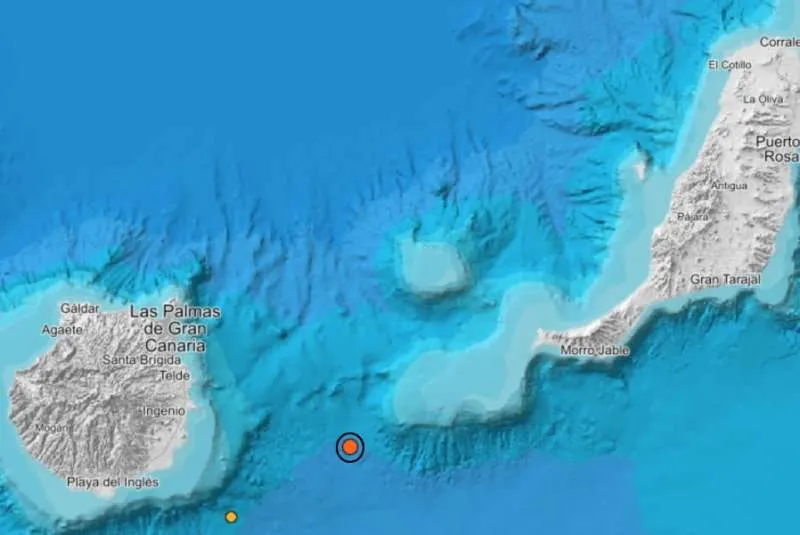 Magnitude 4 earthquake reported between Fuerteventura and Gran Canaria
A seismic movement of 4 on the Richter scale has been reported by the IGN, south of Fuerteventura at a depth of 6 kilometres under the seabed, between the islands of Fuerteventura and Gran Canaria, at the foot of the El Banquete bank.
The tremor that was detected at 9.43pm last night falls within the normal limits of activity, although it was a little stronger than on other occasions, but there is no evidence that it was felt by the population of either of the two islands.
The Banquete bank is part of a series of structures of volcanic origin located on the north-western margin of Africa, forming the so-called Macaronesian bio-geographical region.
El Banquete is the southwest extension of the continental shelf of Fuerteventura, which is an elongated and relatively flat plateau that extends from the Jandía peninsula surrounded by an intricate network of underwater ravines through which sediment moves, leading towards deeper waters.
This has been the largest earthquake recorded in the Canary Archipelago in the last 24 hours, most of which have been detected in the subsoil of La Palma in the in Cumbre Vieja area where the eruption took place.
All the other tremors over the last 24 hours have had a magnitude less than 2 except for one located west of El Hierro (2.1) at a depth of 37 kilometres, and another in Mazo, La Palma, (2.1) at 13 kilometres.
The IGN report shows another five earthquakes in the sea; one to the north of Tenerife, another to the southeast of Gran Canaria, and three in the area of ​​the Volcán de Enmedio, between Tenerife and Gran Canaria.