Loro Parque welcomes two new African crowned crane chicks
Loro Parque has welcomed the arrival of two new African Crowned Crane chicks. This species is endangered in the wild, so their reproduction at this biodiversity conservation centre contributes to their survival. It's the first time the zoo in Puerto de la Cruz has successfully had a pair of these birds give birth. This achievement was made possible thanks to the experts at Loro Parque who have extensive knowledge of these animals' reproduction.
"This year, we prepared the pair to stimulate them for reproduction, reinforcing their diet and preparing a space in our palm grove for them to attempt breeding successfully," explained Rafael Zamora, director of the Loro Parque Fundación.
The incubation period for this species lasts approximately a month, and the chicks will have to stay with their parents for several months to learn how to feed and develop their natural behaviours. The parents are highly territorial when it comes to protecting their young, so caution must be exercised when approaching their nesting area.
In Africa, where they originate, their numbers have dramatically declined in recent years. Field biologists estimate that their populations have decreased by more than 50% in the past two decades, which means that by 2030, the outlook for this species is a decline of around 70%.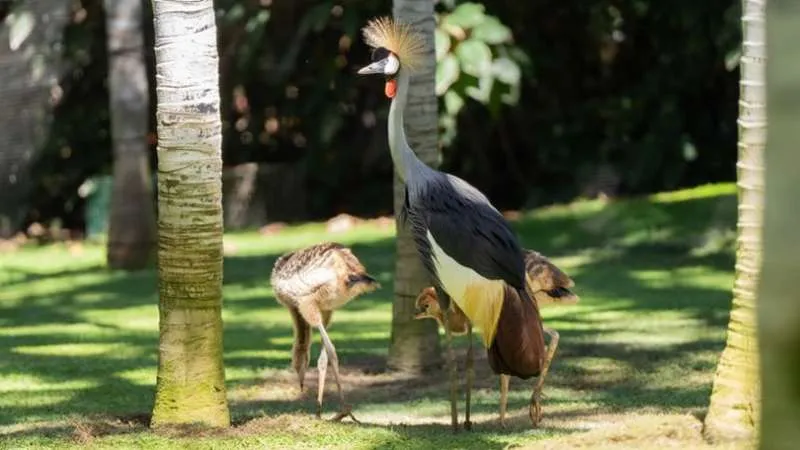 Currently, the species is classified as endangered in the wild. The declines are primarily attributed to habitat loss and fragmentation, illegal capture of individuals and their eggs from the wild, and the international illegal wildlife trade.
Loro Parque, as an Animal Embassy, recognized the need to breed the species to assist in establishing their management under human care before they disappear from the wild.
Other articles that may interest you...