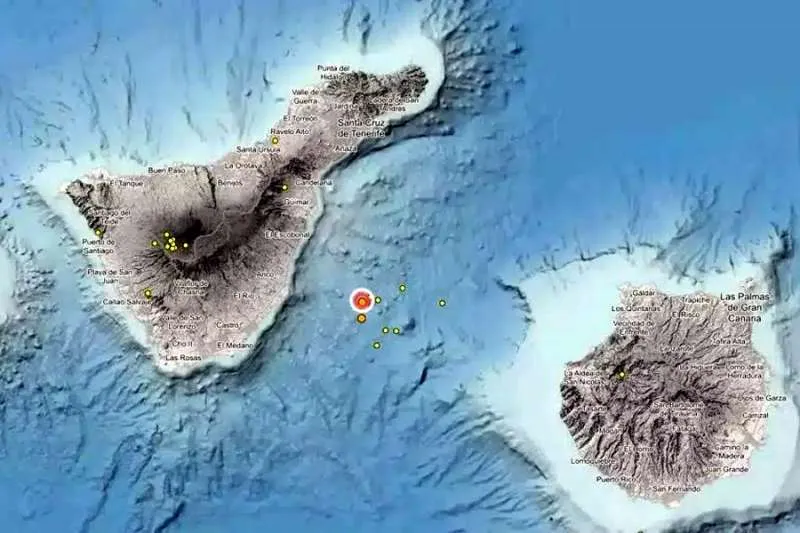 IGN detects four earthquakes within an hour between Tenerife and Gran Canaria
The Instituto Geográfico Nacional (IGN) has recorded four earthquakes within the span of just one hour between the islands of Tenerife and Gran Canaria. These seismic activities occurred in the region commonly referred to as the "Volcán de Enmedio," with one of them registering a magnitude of 3 on the Richter scale.
The other three earthquakes measured magnitudes of 1.6, 1.9, and 2.2, and they were detected at varying depths ranging from 5 to 23 kilometres below the Earth's surface.
According to the IGN, such a cluster of seismic events concentrated within a single hour is not a common occurrence in the Volcán de Enmedio area. Furthermore, an earthquake of magnitude 3 is considered unusual for this region. However, authorities stress that these developments are not necessarily indicative of a significant event.
They further clarified that this does not qualify as an earthquake swarm since no additional hidden tremors have been detected. Thanks to an expanded network of monitoring stations in Gran Canaria, any such seismic activities would be readily observed.
In addition to these, the IGN recorded two more earthquakes in the early hours of Tuesday morning which measured magnitudes of 3.2 and 2.5 and were located off the coast of La Restinga, El Hierro, within the vicinity of the submarine volcano known as Tagoro.