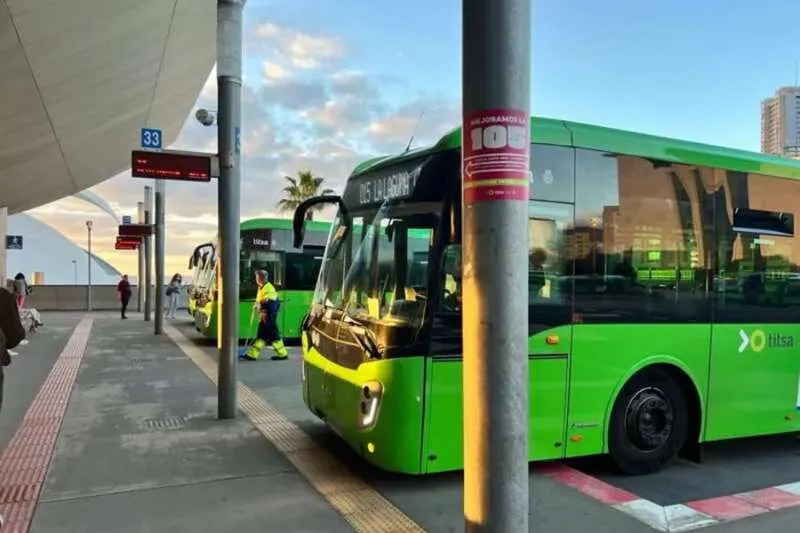 Free public transport has attracted 46,000 new frequent users in Tenerife
TITSA (buses) and Metrotenerife (trams), which are both public transport companies of the Tenerife Cabildo, have reported that free public transport has attracted 46,327 new regular customers since it was introduced on January 1st. Specifically, of the 102,535 travel cards that have been recharged in the first three weeks of January, 45% correspond to new users.
The Councillor for Mobility and president of both transport companies, Enrique Arriaga, explained that "we have seen a notable increase in recharges since the start of free transport, but what stands out most is that almost half of these customers are people who did not use public transport before, or if they did, paid for each trip rather than using their monthly Bono".
Arriaga said that "this is evidence that we are managing to promote the frequent use of public transport and less use of private vehicles", and emphasizes that "despite the high figures registered, transport companies are carrying out all the steps necessary to maintain the quality of the service."
The insular director of Mobility, José Alberto León, highlights that the data indicates an issuance of approximately 2,000 new monthly passes per day so far this year, but despite this, we must wait until next month to see if all the people who have purchased these monthly passes have used them enough to recharge them again to continue enjoying the free service".
After this first month of the free service, those who wish to maintain it must complete 15 trips to be classed as a 'frequent user'. If not then you have to pay for your card which is between 15 and 19 euros.
However, there are 5-trip bonos available as well with a 50% discount, meaning a cost of just 2.50 euros.
Other articles that may interest you...