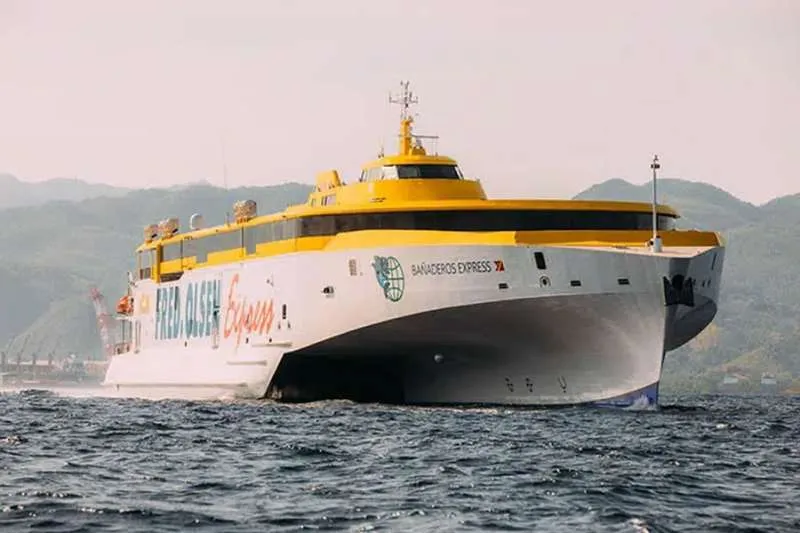 Fred Olsen categorically state that one of their fast ferries did not kill a whale
Fred Olsen have issued an official statement claiming that the incident last Wednesday afternoon that scared passengers aboard the Bañadero Express en route from Tenerife to Gran Canaria, was not the trimaran hitting and killing a whale as people are writing on social media.
According to the ferry company the Bañadero Express had to deal with rough seas during the whole journey, but as it approached the coast of Agaete, there was a sudden loud noise that frightened the passengers.
Even though they ruled out that it was a cetacean, many passengers assumed that the noise was more than the impact of a wave and went outside and to the back of the boat to have a look.
A group of five passengers started the accusation that it was a whale, claiming that they saw: "half of a large whale body, possibly the part of the tail, as well as a pool of blood" from the rear of the ferry, and they added that "Within minutes, more people came to look, but the bad weather conditions and the speed at which the ferry was sailing prevented them from identifying the specimen."
The Fred. Olsen Express statement explains that they followed up on the incident to clarify whether the impact was due to a floating object or a blow from the sea, but never considered the possibility that it was a marine mammal as there were no organic remains on the ship's hull.
"From the first moment, the speed was reduced preventively to carry out a visual inspection of the vessel and as soon as it arrived at the port of Agaete, the hull was inspected in order to check the possible existence of damage, which was ruled out after the inspection", the shipping company explained in the note.
Conservationists are not happy about the situation saying, "We have our priorities wrong by wanting to save 30 minutes on travel time as opposed to saving the marine life around us. There are more and more incidents involving sea mammals but no regulation for the speed or the number of fast ferries."
"The islands are getting increasingly exploited and there is no real protection for our diversity and natural spaces, which are increasingly deteriorating," they claim.