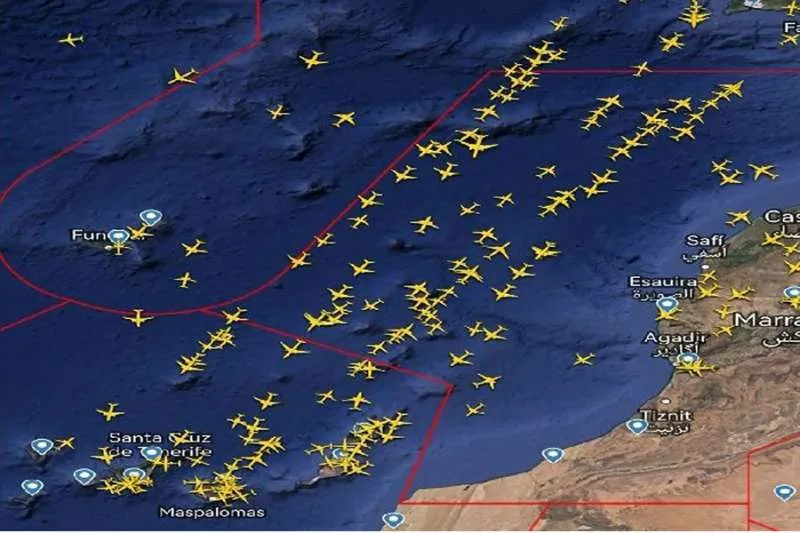 Flight traffic to the Canary Islands has recovered to pre-pandemic levels
Air traffic controllers have posted images of the volume of flights heading to and from the Canary Islands yesterday (Saturday), a sight that is becoming more common every day after the debacle caused by the Covid pandemic, and the occupancy levels over Easter which was better than expected.
The image shows the arrival and departure of planes full of tourists bound for the Canary Islands, and hopes now rest on the upcoming summer season, when the figures that are estimated by the hotel sector in terms of occupancy, are the same as those before the pandemic, equalling record numbers.
The images show planes from all over Europe coming to the Canary Islands, and many other aircraft departing for European destinations with passengers who have had a holiday on the Islands, with one main difference compared to previous months, they are full.
When flights resumed after lockdown, airlines reduced schedules and operated with only 10 or 20% occupancy of seats as travel restrictions, nervousness of the pandemic, and local restrictions on the islands reduced travel and tourist figures.
Easter has been the springboard to tourist recovery for the islands with 85% occupancy in tourist accommodation with national holidaymakers from Spain, Europeans for whom travel is easier with the EU Covid certificate, and those Brits who are fully vaccinated or have a recovery certificate.
In fact, it is only the legislation against entry to the islands for those non-vaccinated travellers from the UK that is stopping full recovery, but that should be lifted by this time next week as the current decree ends next Saturday, April 30th.
Other articles that may interest you...