Barack Obama and Steven Spielberg join The Boss for his concert in Barcelona
Former US President Barack Obama and legendary film director Steven Spielberg, spent a day in Barcelona on Friday, accompanied by their wives, with visits to the Moco Museum and the Sagrada Familia Basilica, followed by a meal with Bruce Springsteen before going to see him in concert at the Olympic Stadium at the start of his European tour.
Staff at the Moco Museum had been waiting with anticipation for their celebrity guests, who took advantage of a nice sunny day to sample Mediterranean culture and get to know this contemporary art museum, which opened two years ago in Barcelona a short distance from the Picasso Museum.
The Moco Museum closed its doors to the public an hour before their arrival at around 12:30pm, where they had a good look around for about 60 minutes. Locals and tourists who were in Calle Montcada were surprised by the presence of the Obamas and their entourage of security that accompanied them.
The Mossos blocked the entire street to allow Barack Obama, his wife Michelle, Steven Spielberg and his wife, the actress Kate Capshaw, to enter the museum to applause and greetings from people in the area. The former president didn't stop smiling at the crowds and gave a 'thumbs up' when asked by journalists if he was enjoying his visit to Barcelona.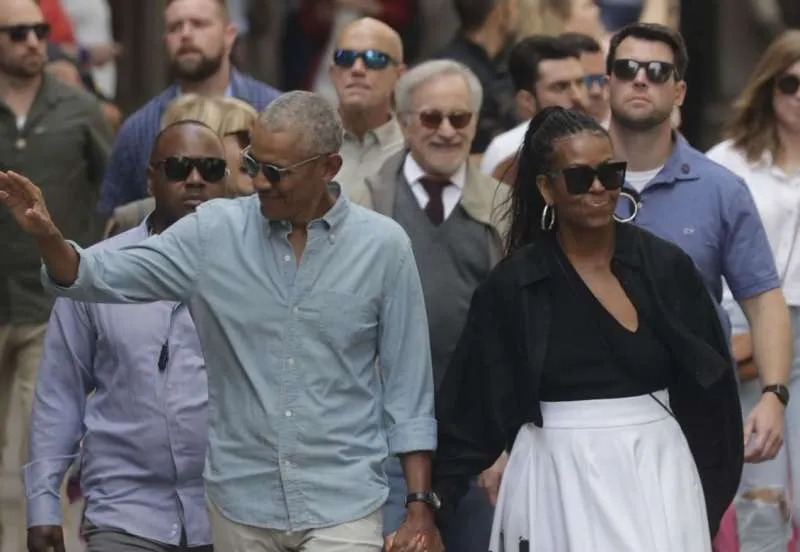 Barack and Michelle Obama in Barcelona with Steven Spielberg behind them.
Their "tour" through Barcelona continued with a visit to the Sagrada Familia basilica, where Obama arrived with his companions at around 1:45pm in various cars on Calle Mallorca, one of the roads adjacent to the modernist temple that, like the others that surround it, was closed by a large police operation coordinated by the Mossos d'Esquadra.
After a short 25 minute visit of the iconic Antoni Gaudí monument, the Obamas and the Spielbergs left the basilica and headed once again to the motorcade heading for Montjuïc mountain to make a stop to eat, where they met Bruce Springsteen and his wife Patti Scialfa, they went to the Martínez restaurant, in the Miramar area of ​​Montjuïc, specializing in rice dishes and with spectacular views over the sea and a large part of Barcelona.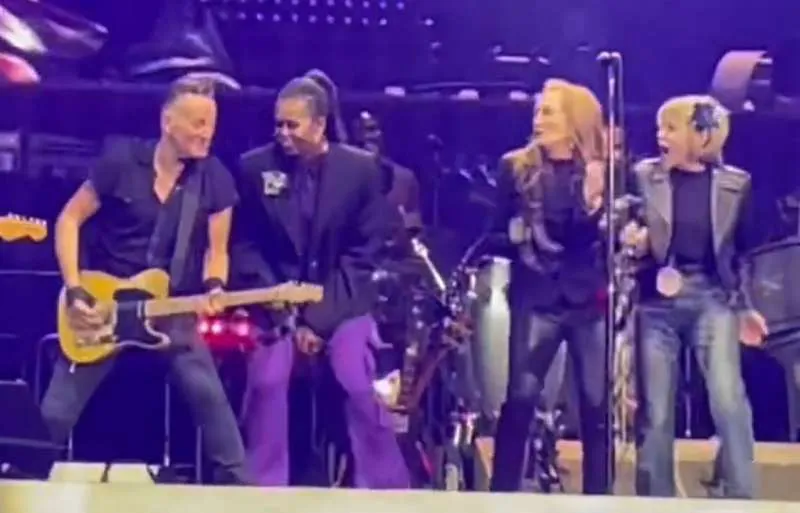 Later, they finished their day at the Olympic Stadium where the Boss entertained over 50,000 fans for almost 3 hours belting all his hits driving the crowd wild, and even had Michelle Obama on stage as a backing singer. However, that is one dinner table we'd love to have a seat at!
Other articles that may interest you...