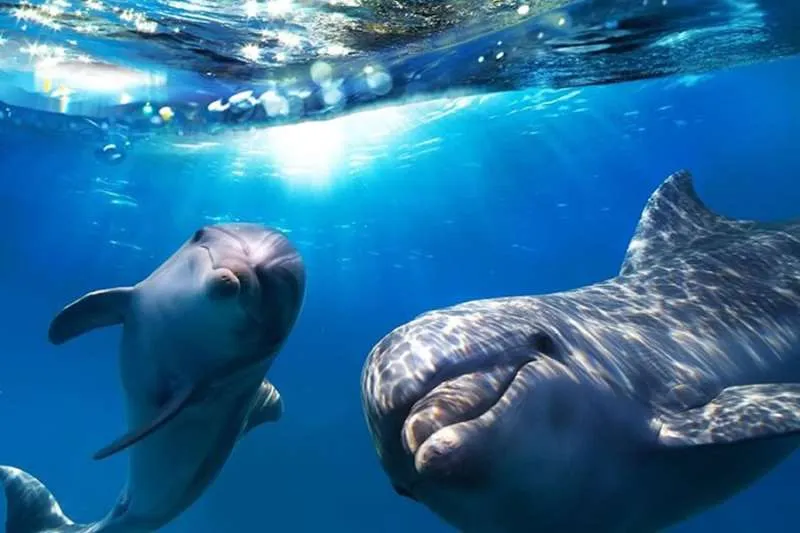 A rare biotoxin is killing dozens of dolphins around the Canary Islands
Recently several dead dolphins and whales have washed up on beaches around the Canary Islands, and after several years of research, the University of Las Palmas de Gran Canaria (ULPGC) has concluded that climate change has indirectly killed dozens of dolphins in the waters around the Islands since 2008.
Veterinary pathologists have found evidence of the existence of a series of biotoxins generated by local microalgae that are lethal to cetaceans. These toxins, known as 'brevetoxins', are emitted by microalgae due to factors related to climate change, such as the warming of the Atlantic.
The microscopic particles expelled by the microalgae of the Karena Brevis species, end up in the stomachs of fish and these, in turn, are eaten by the dolphins, causing intoxication and, subsequently, acute death.
The research, which has been led by Professor Antonio Fernández, coordinator of the team of veterinary pathologists at the University Institute of Animal Health and Food Safety (IUSA) of the ULPGC, suggests that this could explain why in 2008 more than a dozen healthy and young dolphins appeared dead on the coast of Las Palmas in Gran Canaria.
As the ULPGC points out, "this new research work represents the first case of brevetoxicosis in European waters causing massive acute mortality in dolphins from this natural toxin." And they add that these types of brevetoxins are relatively common in warmer areas, such as the Gulf of Mexico, but unusual in this area of ​​the Atlantic and this is the first time that this type of poisoning has been recorded in Europe.
DESTABILIZATION OF ECOSYSTEMS:
These 'Marine Algal Blooms' are becoming more prevalent around the world and can destabilize entire ecosystems by causing oxygen depletion, clogging the gills of some fish, and even suffocating corals by producing biotoxins.
All this, in turn, can have a long-term negative impact on humans, although the study did not assess the possible effects that eating fish contaminated by these brevetoxins could have on people.
The study concludes that this is the first time that massive deaths of cetaceans related to brevetoxicosis have been documented in the eastern Atlantic Ocean. Thus, the report points out that the gastric toxicological analysis of the dolphins indicate that they could have died of "multisystem hemorrhage" and "indigestion" caused by these lethal toxins, and urge other institutions to observe European waters to avoid a possible proliferation of this type of cases that, they insist, derive from the effects of climate change generated on marine and terrestrial ecosystems.
Other articles that may interest you...