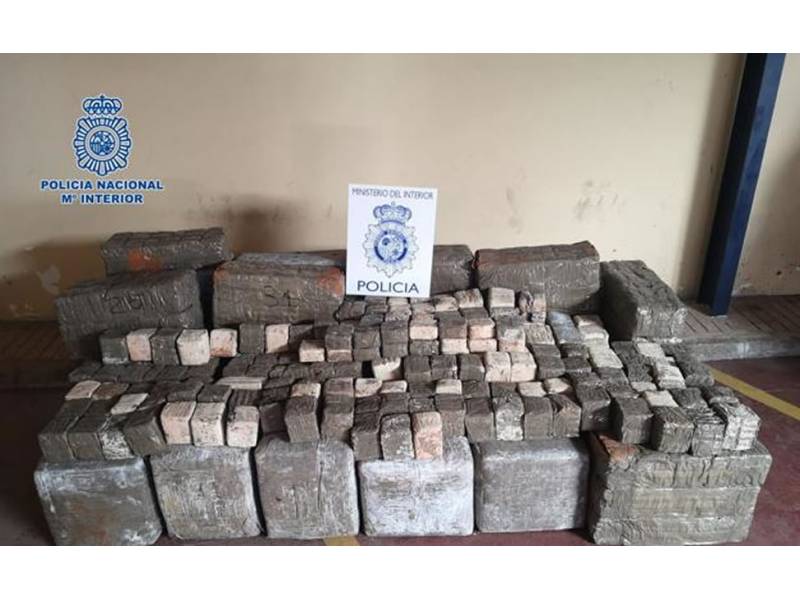 Two men arrested with 1,270 kilos of hashish in Fuerteventura
The National Police have arrested two men on the island of Fuerteventura, aged 47 and 58, charged with drug trafficking after they found 1,270 kilos of hashish hidden in scrap metal. The two make up the Canarian branch of a criminal organization dedicated to smuggling hashish and cocaine from Morocco, led by a man of that nationality.
The police confirmed that they introduced the drug into the islands by inflatable boats, and after hiding it in scrap metal it was sent to mainland Spain by sea. The police operation culminated in the seizure of the drugs in an industrial warehouse in El Matorral, in Fuerteventura, after needing power tools to access it, as you can see here on the police video:
Last September, the National Police learned that a criminal organization led by a Moroccan man could be operating in the Canary Islands, specifically on the island of Fuerteventura.
An intense police investigation made it possible to uncover a Canarian connection of the criminal network, which turned out to be made up of two men living in the Canary Islands. In their name there were several buildings in industrial estates located in El Matorral in Fuerteventura, and La Legada in Seville.
The agents from the National Police were able to verify that those investigated received the drugs from Morocco in inflatable boats, guarded them and then later hid them among scrap metal in order to send it to Seville by sea in containers.
With the collaboration of the Puerto del Rosario firefighters, the El Matorral warehouse was searched, where 1,270 kilos of hashish were seized. Simultaneously, another search was carried out in the warehouse located in Seville, where it was discovered that the imported drugs from the Canary Islands were stored there.
The police operation culminated in the arrest of the two men as alleged perpetrators of drug trafficking, and the search of two buildings where cash was also seized.