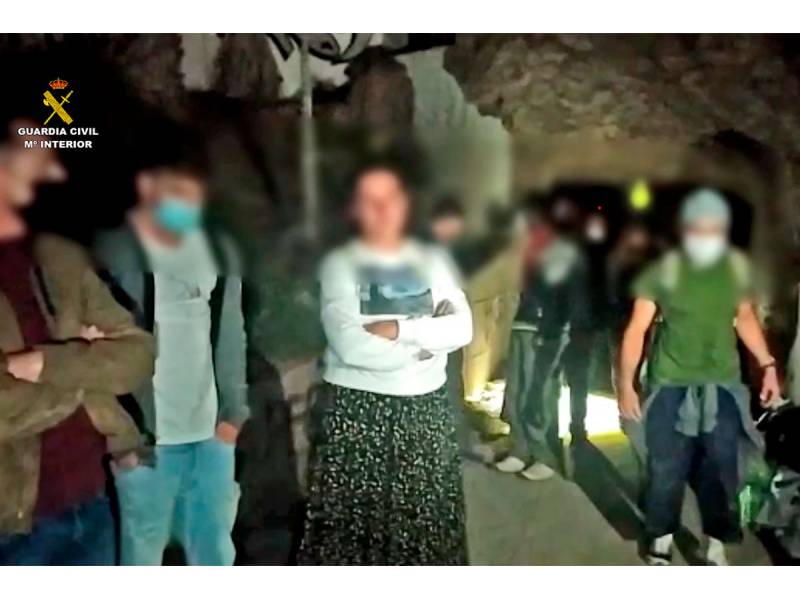 VIDEO: Police stop illegal party with more than 50 people in Fuerteventura
The Guardia Civil in Corralejo broke up an illegal party yesterday, in which more than 50 young people had gathered, most of whom were non-resident tourists of various nationalities, in the disused facilities of the Baku leisure complex in the town of Corralejo.
The incident took place around 1:30 yesterday morning, when agents received information that was circulating on social media referring to an unauthorized party that was possibly taking place at the aforementioned place, which apart from being disused, are in fact an abandoned and dilapidated infrastructure, lacking any type of lighting.
In order to get the facts, the officers on duty went to the complex, forming two groups to comb the interior of the enclosure, to prevent anyone getting past them. Inside the building there was loud music and a group of around 50 people consuming alcoholic beverages, without using masks, and without maintaining any social distancing.
When they saw the police officers, those attending the party tried to flee from the buildings which have numerous access areas, without assessing the dangers posed by wandering around inside these facilities, as you can see on the video.
The police intercepted and identified ten people, who were charged under Decree Law 10/2020, of September 4, which establishes the sanctioning regime for non-compliance with protection and containment measures against Covid 19, specifically to its sixth article, section A (minor offenses), for not wearing a mask, which carries a penalty of 100 euros, in addition to breaching the curfew, as well as for consuming alcoholic or narcotic beverages on public roads in a group greater than 10 people, which carry penalties of between 100 and 3,000 euros each.
With witness statements, videos and by watching social media, police are confident they will identify and sanction everyone that attended the party quickly.
This is not the only altercation or gathering interrupted this weekend as several have been reported in Tenerife, Gran Canaria, and Fuerteventura, but the authorities warn that the police will be extremely tough from now until after Easter on individuals, groups, and bars that break regulations as the islands can't afford backward steps.
Other articles that may interest you...
This week 375 fines have been issued in Tenerife alone, mainly for masks, group size, parties, or curfew, with 216 of them in the south of the island which is 57%. It seems that most although the north of the island has more active cases, the south of the island is worse behaved.