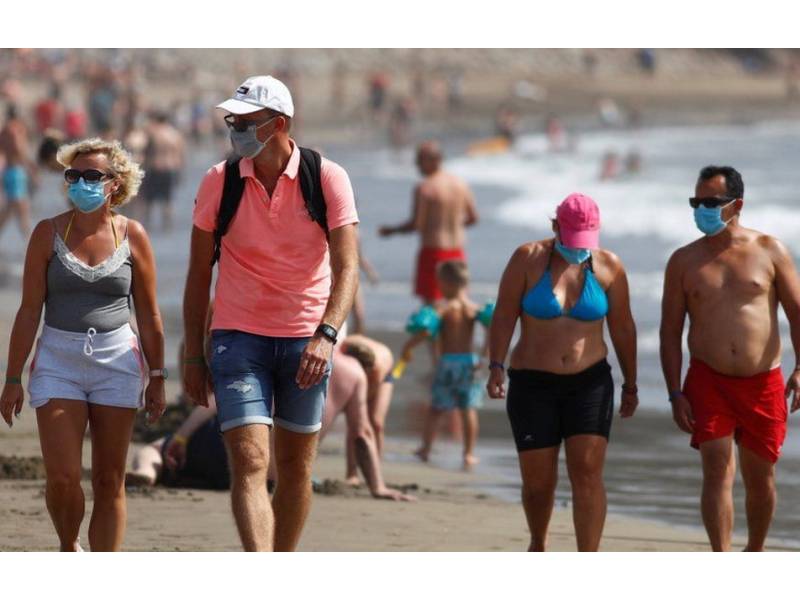 Covid update: 4,679 new cases and 6 deaths over first weekend of the year
The Canary Islands has started 2022 with 3,033 new cases on New Year's Day and 1,646 new cases recorded today as the upward trend of the sixth wave with the influence of the omicron virus continues in the archipelago. The weekend's figures are currently provisional and are always lower so the full effects of New Year parties and celebrations won't be seen until tomorrow or Tuesday.
Of today's new cases, Gran Canaria has the most with 747 new cases, Tenerife has 626, Lanzarote 190, Fuerteventura 52, La Palma, 18, La Gomera 12, and just one in El Hierro.
Regarding incidence rates the islands now have an IA7 of 1,128.66 and an IA14 of 1,876.10 cases per 100,000 inhabitants. The R rate of contagion is now 1.30 and hospitalisations have increased by 20 (5%) to 396 in wards and 63 in ICU.
Fuerteventura is still the island with the lowest incidence rates in the Canaries, and Tenerife has the two highest with an IA7 over 2,400 and an IA7 over 1,300 cases. This week the Public Health Committee will once again review the alert levels for each island and any extra restrictions for Kings Day on the 5th and 6th January.
Data for Sunday 2nd January 2022:
(updates are against yesterday's figures)
New cases: 1,646
Gran Canaria: 747
Tenerife: 626
Lanzarote: 190
Fuerteventura: 52
La Palma: 18
La Gomera: 12
El Hierro: 1
Current Incidence rate (IA7): 1,128.66
(Cases last 7 days: 24,559)
Tenerife: 1,363.88
Lanzarote: 1,104.54
La Palma: 1,041.24
Gran Canaria: 970.87
El Hierro: 968.87
La Gomera: 894.92
Fuerteventura: 578.79
Current Incidence rate (IA14): 1,876.10
(Cases last 14 days: 40,789)
Tenerife: 2,436.56
El Hierro: 1,668.61
La Gomera: 1,679.12
Lanzarote: 1,641.72
Gran Canaria: 1,487.75
La Palma: 1,368.35
Fuerteventura: 1,013.93
General:
Covid patients in hospital: 396 (+20)
Covid patients in ICU: 63 (+1)
Home isolation: 48,183
R number: 1.30 (needs to be below 1)
PCR test positivity rate: 26.18% (should be below 4.5%)

Vaccination: (NO UPDATE UNTIL MONDAY)
Total administered: 3,739,741
Fully vaccinated: 1,687,998 people (80.47%)
One dose: 1,764,701 people (84.13%)
Children aged 5-11: 35,075 (25.62%)
Booster doses: 430,501

Deaths last 24 hours: 3
Tenerife: 3 (643)
Gran Canaria: 1 (397)
Total deaths: 1,145

Medical Discharges in last 24 hours: 331
La Palma: 66
La Gomera: 62
Lanzarote: 56
Tenerife: 48
Gran Canaria: 39
Fuerteventura: 37
El Hierro: 23

Total Active cases per island:
Total: 48,642
Tenerife: 27,416 (+575)
Gran Canaria: 15,483 (+707)
Fuerteventura: 2,301 (+16)
Lanzarote: 2,152 (+134)
La Palma: 992 (-48)
La Gomera: 166 (-50)
El Hierro: 132 (-22)


Municipalities with most active cases in each island:
11,841 in Santa Cruz (Tenerife)
11,838 in Las Palmas (Gran Canaria)
5,820 in La Laguna (Tenerife)
1,480 in Arrecife (Lanzarote)
1,131 in Puerto del Rosario (Fuerteventura)
1,063 in Arona (Tenerife)
1,036 in Telde (Gran Canaria)
803 in Adeje (Tenerife)
834 in Puerto de La Cruz (Tenerife)
786 in Granadilla de Abona (Tenerife)
701 in La Oliva (Fuerteventura)
521 in San Bartolomé de Tirajana (Gran Canaria)
505 in Santa Lucia de Tirajana (Gran Canaria)
355 in Guia de Isora (Tenerife)
190 in Mogán (Gran Canaria)
157 in San Miguel de Abona (Tenerife)
94 in Santiago del Teide (Tenerife)
(Please note this is not all municipalities, it represents the most infected and tourist areas)