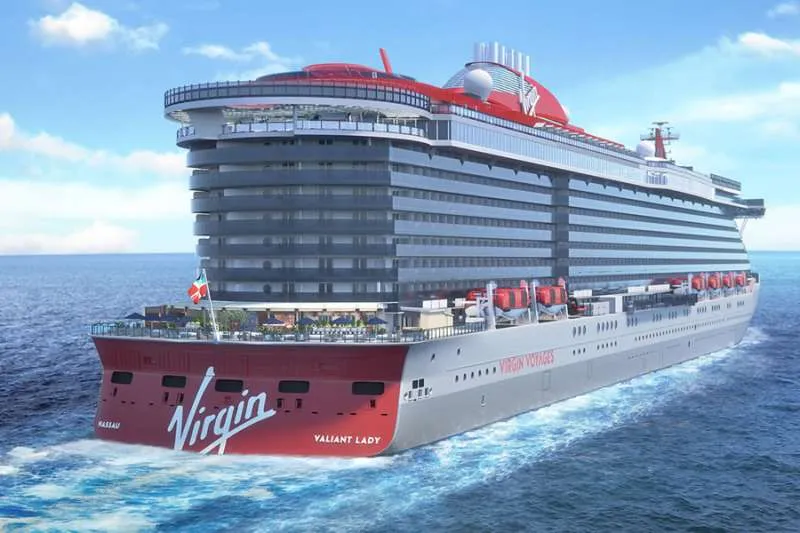 Virgin's Valiant Lady is coming to Tenerife for the first time
The stylish Valiant Lady cruise ship is one of the new sustainable and eco-friendly boats launched by Virgin Voyages and represents their new concept into cruising, measuring 278 metres long, with 13 passenger decks for 2,770 guests who are tended to by 1,160 crew.
Its launch was delayed because of Covid and sailings have only recently started properly as destinations are opening up and allowing cruise passengers back.
The ship will call at Santa Cruz port in Tenerife next Thursday 24th March for its first call in the Canary Islands, before sailing to Barcelona, which will be its new home.
The Valiant Lady, sponsored by Jennifer López, is an adult only ship and is said to be the most sustainable cruise ship in the world, which means, for example, no single-use plastics on board, no buffets to avoid food waste, and reduced carbon emissions due to a complicated recycling system that harness waste heat from the engines' cooling water, converting it to clean energy to power the cabins, restaurants, and other venues onboard
They also provide everyone with reusable drink bottles, and complimentary still and sparkling water is available to guests (called sailors) throughout the ship's many restaurants in an effort to diminish plastic water bottle waste. There are also filtered water stations all over the ship for refills.
The port of Santa Cruz will receive twenty cruise ships between now and the end of March. The most notable dates are Thursday the 24th, with four ships in port, The Iona, MSC Splendida, Mein Schiff3, and World Voyager3, the last two have Santa Cruz as their operational base port, which means that its passengers start and end their holiday in Tenerife. In addition, the capital will experience the first stopover in Tenerife of the Valiant Lady.
Three ships will arrive the next day, Friday the 25th, which are the Mein Schiff4, the Europa2, and La Belle des Oceans, and on Wednesday the 30th the MSC Seaside will be in port to celebrate the announcement of a renewed contract with Tenerife for the autumn season of 2022.
If the forecasts of the Port Authority are maintained for 2022, Santa Cruz will see 360 cruise ships this year out of 667 stops in the Province in total, with 171 cruise stopovers in La Palma, 100 in La Gomera, 30 in La Estaca in El Hierro, and 6 in Los Cristianos.