Thousands protest in Tenerife and Gran Canaria against new building projects
Thousands of people joined the demonstrations this morning (Saturday) in the capitals of Tenerife and Gran Canaria to protest against new tourism construction projects that destroy the natural habitat of the island, under the slogan "The Canary Islands are not for sale, they love and defend themselves".
Environmental groups, politicians, and unions have all given their support in protest against projects such as the Salto de Chira hydroelectric plant in Gran Canaria or the new Cuna del Alma complex in Puertito de Adeje, in the South of Tenerife.
In Tenerife, thirty groups and organizations walked the streets of Santa Cruz to ask for the recovery of the natural areas of ​​the Island and raised their voices against "political servility" towards the large multinationals. The attendees made a tour that began in Plaza Weyler and ended in front of the entrance to the Cabildo.
Their objective, "is to make the entire population of the island aware that we are experiencing a limit amount of time to take care of our natural spaces," said Sayo de León, one of the organisers of the march.
"The aim is also to unite the entire archipelago so that the institutions listen to us and take us into account in the decisions they make regarding our territory and our home. Canarian politicians do not offer an alternative model and act as servants of the large multinationals. That is why we have to defend ourselves", she concluded.
In the speech at the end of the demonstration, they called for support for the protestors camping at the Cuna del Alma construction site, which has been going on for three months to the day. "The comrades who have put their bodies in front of machines so that the government listens to them. They are not alone".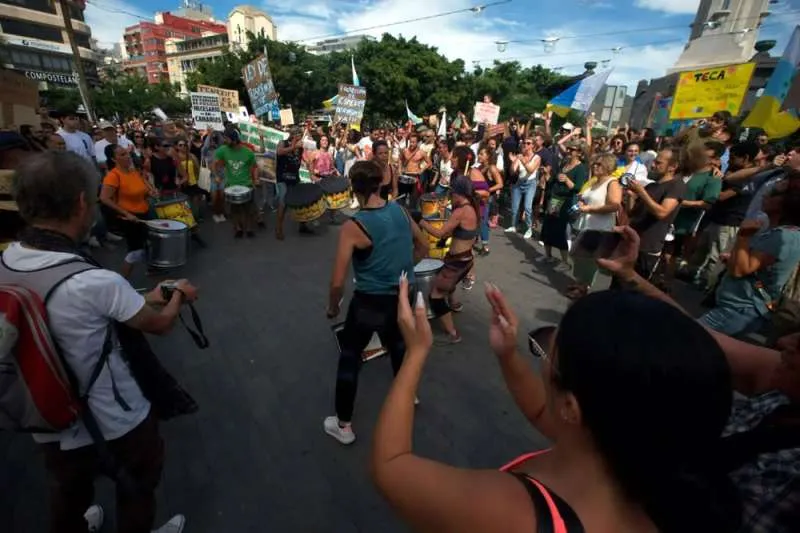 SIMULTANEOUS DEMONSTRATION IN GRAN CANARIA:
In Las Palmas, thousands of people turned out to demonstrate against projects such as the Salto de Chira, including representatives of environmental platforms, unions, and political parties.
In addition to rejecting this hydroelectric plant promoted by the Cabildo and being built by Red Eléctrica de España, they were protesting to "save what little remains of the territory, and for young people and the academic world to be listened to more."
"Renewable technology is advancing in leaps and bounds and we have to bet on more energy-sufficient communities, self-consumption, distributed generation, and social participation in the sector, and not so much on macro-infrastructures, which have a high cost in all senses and which, moreover, remain in the hands of companies that have no ties to the territory", said the group who carried banners with the slogan, "Save the Arguineguín ravine".