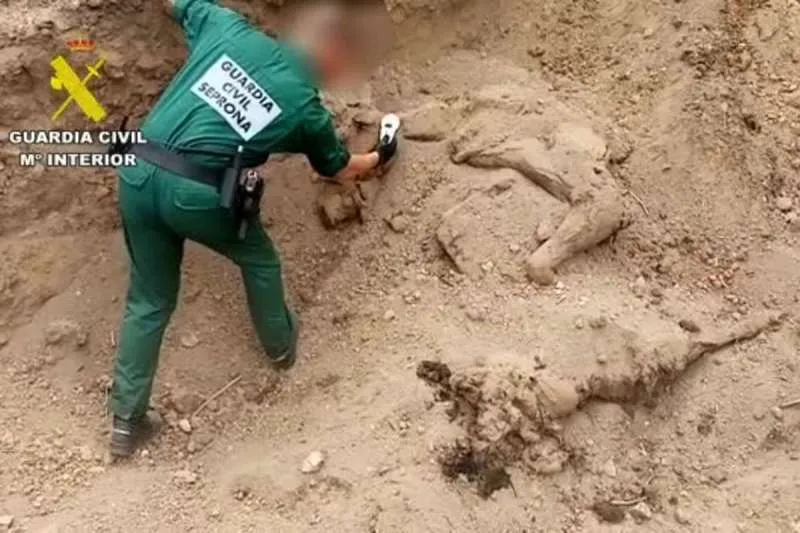 Police investigate a man for shooting and burying a horse on his farm
The Guardia Civil are investigating a 50-year-old man, accused of killing a horse he owned after shooting it with a hunting shotgun, and then burying it on his farm in the municipality of Telde in Gran Canaria.
An investigation began after other people stepped forward and reported it to different police forces, claiming there were several of them involved in the death of the equine animal.
Due to this, the Seprona division got involved and wanted to access the farm to investigate where they had been told the horse had been buried, but the owner of the private land refused them access.
Following procedures, Seprona got official authority from the Investigating Court number 1 of Telde for entry to the farm and permission to dig up the animal and transfer it to the necropsy room of the Veterinary Faculty of Las Palmas for autopsy.
With the collaboration and help of personnel from the Department of Municipal Services of the City Council, they located a buried horse in an area with loose soil and began excavation. They found the corpse at a depth of approximately 2 metres, which was in an advanced state of decomposition giving off a strong odour.
In addition, they were able to verify how the animal was wearing a bridle and a rope, and had a hole in the right part of its head, and transferred it for autopsy.
In the report, carried out by the Veterinary Anatomopathological Diagnostic Service, multiple fractures at the base of the horse's skull were verified, and six gauge 3 metallic pellets and a plastic wad of 2cm (cartridge wad) were extracted from inside its head. From this, they concluded that the findings are indicative of a wound as a result of the use of a firearm at close range, producing fatal injuries that caused instant death.
Finally, the agents were able to clarify what had happened, via witness statements and from the owner of the animal himself, and confirmed that the animal was slaughtered without the supervision of a vet and outside of justified causes or in accordance with current legislation, such as scientific experimentation, human consumption, religious sacrifice, bullfighting, a state of necessity, or legitimate self-defence.
For all these reasons, the man was charged with a crime related to the protection of flora, fauna, and domestic animals. The police proceedings were handed over to the Investigating Court number 1 of Telde in Las Palmas.
Other articles that may interest you...