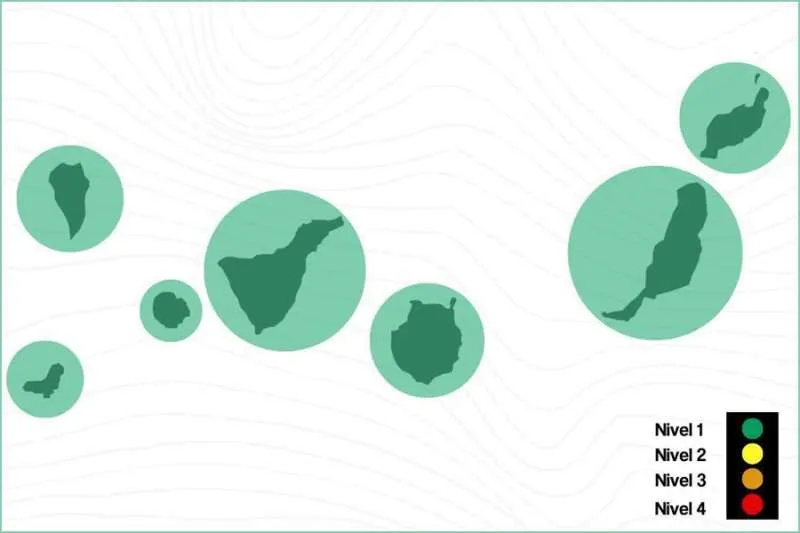 Ministry of Health: All islands remain at low risk for Covid-19
The Ministry of Health has updated the health alert levels yesterday (Friday) after reviewing the epidemiological report of the General Directorate of Public Health, carried out in accordance with the new criteria of the Strategy for Surveillance and Control of COVID-19 after the acute phase of the pandemic, based on indicators of use and pressure on healthcare services.
According to the report, all the islands remain at the same alert level as they were, remaining at Level 1 or low risk.
The indicators of the use of health services, referring to the occupation of beds, are fundamentally those that mark the pressure on the SCS caused by Covid, and are those that are taken into consideration to determine the level of health risk.
In this way, five alert levels are established (from 0 to 4) that assess whether the situation is one of controlled circulation, which would be the lowest, or low, medium, high, or very high risk.
Healthcare indicators:
In the Canary Islands as a whole, the daily average occupancy of conventional hospital beds by Covid patients decreased by 14.5%. The level of risk in the percentage of occupancy of conventional beds is in controlled circulation for the Canary Islands, and all the islands are at a low-risk level or in controlled circulation.
Trend of ICU bed occupancy:
The number of occupied ICU beds has remained at an average of six beds over the last week, and the percentage of occupancy continues at an average of 1.2%, maintaining controlled circulation in the region as a whole and on all the islands individually.
The occupancy rate of ICU beds per 100,000 inhabitants remains at an average of 0.23 and all the islands remain in controlled circulation.
Incidence in people over 60 years old:
The Accumulated Incidence rate at seven days for those over 60 years of age increased by 29% in the last week. However, all the islands remain at a low-risk level or controlled circulation.
The Ministry of Health reiterates the importance of vaccination to maintain this situation as we head towards autumn and winter when a rebound is expected.