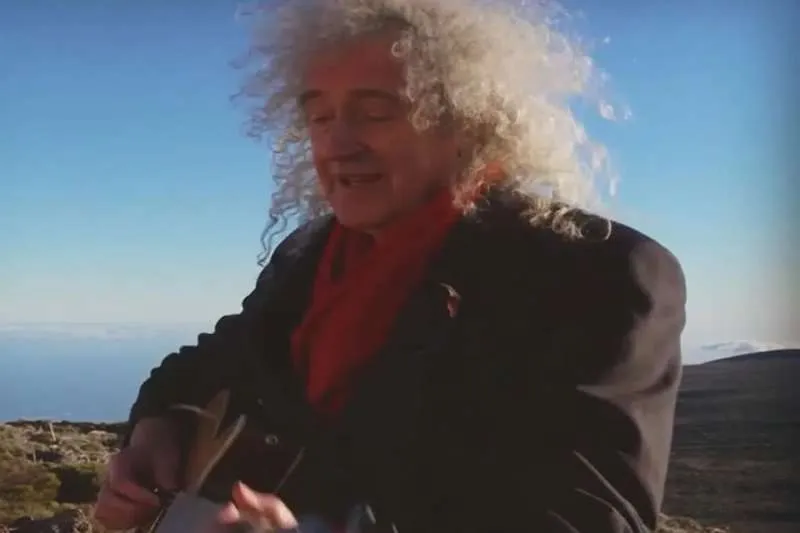 Brian May is back in Tenerife recording a video for new album
Legendary Queen guitarist, Brian May, doesn't hide the fact that he loves Tenerife, and visits the island whenever he can, whether it is to visit Teide the Izaña Observatory at Teide National Park, promote and speak at the now world-famous Starmus Festival, or to take time out with actress wife, Anita Dobson, and enjoy the island like any other visitor.
This week he is back in his favourite place to shoot a new music video for the remastered re-release of his second solo album Another World, following on from last year's Back to the Light. Taking a breather from filming, he shared a video with his fans by the Observatory where he performed '39.
Brian wrote the song for the 1975 Queen album 'A Night at the Opera', with lyrics telling a story that years later would coincidently be reflected in Christopher Nolan's Interstellar. The song speaks of an astronaut who travels far away into space, returning to Earth after one year, but finding that it's been a century for those who stayed behind thanks to Einstein's clock paradox.
In his new video, he said: "Hello folks, this is Bri with an unusual Instagram post. I'm here in the wonderful Tenerife at the beautiful observatory, feeling very privileged shooting a video for Another World. And it's been a great kind of time travel journey for me because, of course, the song goes back many, many years."
"But the song that I'd like to sing for you today goes back further than that. I've been reluctant to post anything recently because of the terrible tragedy unfolding in the world. But I'm hoping this song might offer a little bit of hope; some belief that things will be okay in the future."
"And if we look at things in the context of the passage of time, everything has to be and will be and it's going to be okay." He then took it away, encouraging fans to join in at home.
Brian May first visited Tenerife in 1970 to work on his PhD at the observatory, and instantly fell in love with the island, making it common knowledge that he wants his ashes scattered in Teide National Park one day.
In 2014 he was an instrumental part of the Starmus Festival giving a rousing live performance with Rick Wakeman at the Magma Centre, and over the years has attracted guest speakers including Neil Armstrong, Buzz Aldrin, and Steven Hawking to Tenerife.