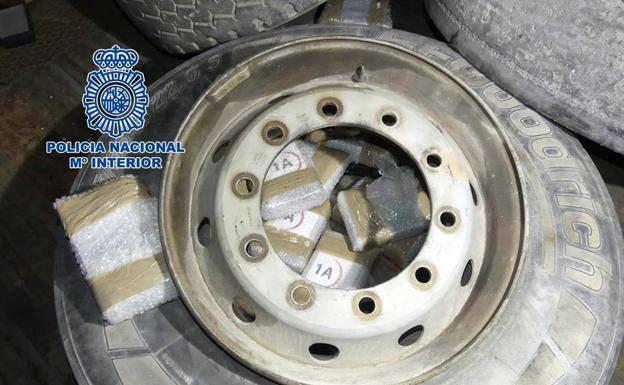 32 kilos of cocaine found in the spare wheel of a lorry from Fuerteventura
The National Police in Almería have intercepted a lorry from Fuerteventura in which a construction machine was being transported, with 32 kilos of cocaine hidden in the spare wheel, which has led to the arrest of four people with two of them being admitted to prison accused of belonging to a criminal organization and drug trafficking.
'Operación Espléndido', which has also being carried out in Lugo, has meant the end of a cocaine distribution channel from the Canary Islands to Europe, as indicated by the Police in an official statement.
The operation started at the beginning of the year, when investigators focused on a person from Galicia, who used his status as a professional in road transportation to supposedly mask his "criminal intentions."
Thus, in collusion with two of the other arrested residents in the coastal nucleus of Almerimar in El Ejido (Almería), they had formed a series of mercantile companies, to be able to import and export heavy machinery from the Peninsula to the Canary Islands and vice versa.
These commercial entities lacked any other commercial activity than the criminal entity itself, as determined by the investigators. According to the Police, the members of the organization were forging transport documents to undertake a drug trafficking operation, moving the same machinery back and forth.
The police investigations detected the transportation of a construction machine from Almería to Fuerteventura, through the port of Huelva. Once on the island, the organization placed 32 kilos of cocaine inside the compactor roller, which they loaded onto a trailer to start the journey to return to Almería again, where it was deposited in an industrial warehouse.
Other articles that may interest you...
Investigators from the National Police in Almería then observed that the truck "circulated without a load and without any spare wheels."Within a few hours, the agents saw the truck return to the ship and collect its two spare wheels.
With this information, National Police in Almería decided to stop the truck, and search it, finding 29 packages of cocaine weighing 32 kilos, hidden inside the spare wheels of the truck. Once analyzed, they found the cocaine had a purity of 80%.
Following this, the National Police proceeded to arrest two other people residing in Almerimar, a father and son who are responsible for the company based in El Ejido, the importer/exporter of the construction machinery, where the drugs from the Canary Islands was housed. The National Police then brought to justice the last of the detainees, who had rented the industrial warehouse in the La Cumbre area of ​​El Ejido, to carry out the illegal activities.
The four detainees have gone to court accused of a crime against public health, and belonging to a criminal organization, the judicial authority agreeing to put two of them straight in prison.