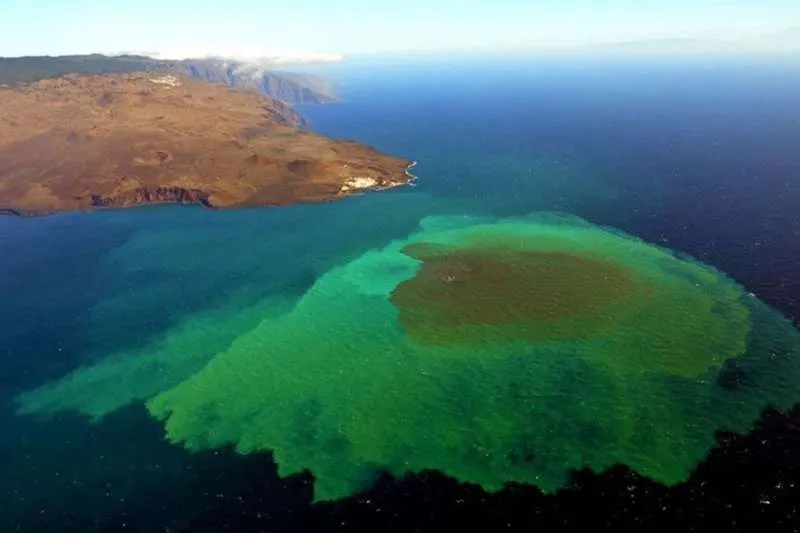 The waters of El Hierro are to become the 5th National Park in the Canaries
The Canarian Government has confirmed that it has formally submitted a proposal to the National Parks Network Committee for the waters south of El Hierro to be adopted as a National Marine Park. If approved, as seems likely, it will be the fifth national park in the Canary Islands.
The sea area has already been declared a UNESCO Biosphere Reserve, and the submarine eruption some years ago has even further enriched its unique bio and geo-diversity.
As a Marine National Park, the protected area would increase from the current 3,000 acres to over 50,000 acres. Meetings have already taken place between the Canarian Government's Environment Department, El Hierro President Alpidio Armas, and National Parks President Javier Pantoja.
Also involved in the proposal's submission have been members of a wide range of marine organizations including the fishing and diving sectors, to further the general aim of striking a balance between the conservation of exceptional natural values, and the development of compatible and legally permitted activities.
The 2011–2012 El Hierro eruption occurred 2 km to the south of the fishing village of La Restinga on the southern coast of the island, and until the 2021 La Palma eruption, was the last volcanic eruption in Spain.
In 2016, the underwater volcano was officially named Tagoro. The word comes from the Guanche language and means 'circular enclosure made of stones' or 'meeting place'.
National Parks in the Canary Islands:
The Canary Islands have one of the most valuable ecosystems in the world. That's why 40% of the archipelago is catalogued as protected natural space. Part of this territory corresponds to the four fantastic natural parks, which are:
- Teide National Park (Tenerife): the most visited natural park in Spain and one of the most visited in the world. Home to the third tallest volcano on the planet and the highest point in the geography of Spain.
- Timanfaya National Park (Lanzarote): declared a UNESCO Biosphere Reserve in 1993, it is of volcanic origin and has more than 25 volcanoes of exquisite beauty and you can still feel the heat coming off the coloured rocks and sand.
- Garajonay National Park (La Gomera): named after the romantic native legend of Gara and Jonay, the Canary Islands equivalent of Romeo and Juliet, who threw themselves from the top of the mountain for love. It was named a UNESCO World Heritage Site in 1986 and a Biosphere Reserve together with the rest of the island of La Gomera.
- Caldera de Taburiente National Park (La Palma): The centre of the island is an impressive hollow that is almost eight kilometres in diameter and up to a kilometre and a half deep. Of volcanic origin, its steep cliffs and lush Canary Island pine forest are surrounded by spectacular waterfalls.
Other articles that may interest you...