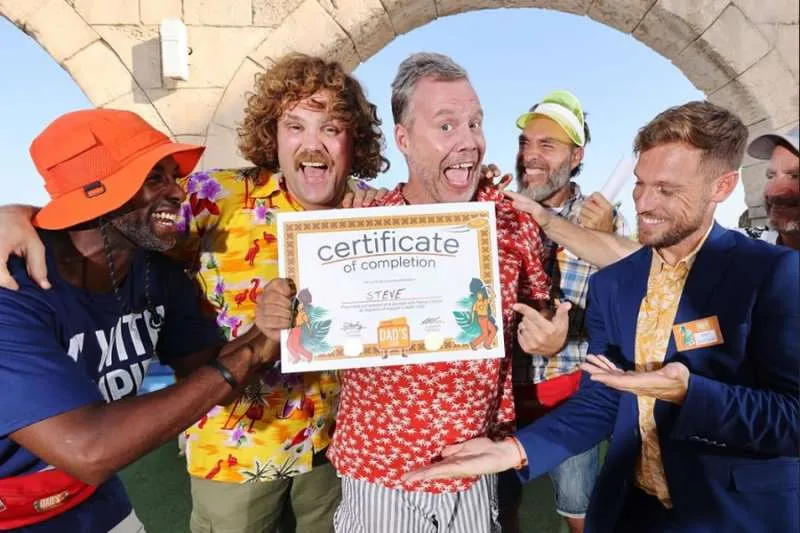 Do your kids this you are an embarrassing Dad on holiday? Then this is for you!
More than half (54%) of British teenagers think their dads embarrass them on family holidays, by doing things like telling bad jokes, snoring by the pool and cringeworthy 'dad' dancing. The study comes via easyJet Holidays, who have launched the world's first in-hotel 'Dads Club'.
Opening on August 24th at Holiday World Polynesia in Benalmadena on the Costa del Sol, it's a 'safe space' for dads who don't want to be judged by their teenage kids.
The unique club aims to offer teenagers a break from their fathers' cringe-worthy antics and provide a judgement-free zone for dads to bond. Activities at the 'school of cool' include free dad dancing lessons, frisbee and air guitar classes, and a joke workshop, as shown in a funny promotional video featuring Omid Djalili.
Comedian Djalili said: "It's a rite of passage for us Dads to embarrass our kids. It comes with the job. So I'm very proud to have teamed up with easyJet Holidays to unveil a new club JUST for Dads. A safe space to learn how to throw a frisbee, dance without pulling a muscle, and crafting brilliant jokes for the 21st century."
International beach holidays (51%) are the prime setting for 'dadbarrassment', followed by local holidays (29%) and urban getaways (22%). The Dad's Club concept has been well-received, with 44% of fathers expressing an interest in attending.
Matt Callaghan, Customer Director at easyJet Holidays, added: "Evidently, embarrassment is a part of the holiday package when Dad's around. We offer some incredible resorts for the whole family, but now we're upping our offer for Dads. At Dad's Club, our customers will get a unique opportunity to hone their cool skills while making new friends and memories to last a lifetime. But remember, cringe-worthy or not, we love our Dads to bits."
However, despite all this, 53% of dads surveyed think they are 'cool' on holiday, while 34% admit to purposely humiliating their kids.
A survey of 1,000 British teens revealed that these are the top 20 cringe-worthy dad behaviours, according to the survey:
Telling bad jokes
Dad dancing
Comparing prices to everything back home
Complaining loudly
Trying to make friends with the locals
Loud conversations with strangers
Trying to join in with teen slang and getting it wrong
Falling asleep by the pool and snoring
Using pet nicknames in front of strangers
Being greedy at the buffet
Telling embarrassing anecdotes
Constantly taking photos
Wearing socks with sandals
Wearing his team's football shirt
Wearing inappropriate clothes for their age
Failing to be understood while speaking the local language
Getting up early to reserve sun loungers
Showing off in the pool – e.g. cannonballs
Attempting TikTok memes/dances
Wearing tiny swimming trunks.
Other articles that may interest you...