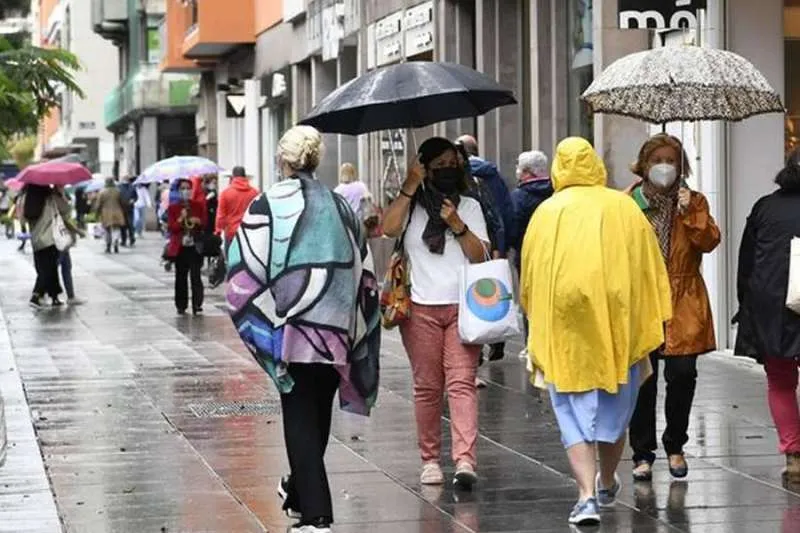 Covid update: 5,549 new cases and 5 more deaths in the Canaries
The Canary Islands have added 5,549 new cases of coronavirus today, which is 1,280 less than last Tuesday when the record number for daily cases was set, and brings the accumulated total to 229,445 cases since the beginning of the pandemic. The Ministry of Health have reported five deaths in the last 24 hours, three in Gran Canaria and two in Tenerife, which are three women and two men, aged between 80 and 90 years old, and all had previous pathologies.
The SCS has confirmed that there is an infant under 2 years old who has required essential medical care at the Doctor José Molina Orosa Hospital in Arrecife after testing positive for coronavirus. It is not the first child to go through a similar situation in relatively recent dates, but they have reported that the child is responding favourably to treatment and is expected to make a full recovery.
Data for Tuesday 18th January 2022:
(updates are against yesterday's figures)
New cases: 5,549
Tenerife: 2,727
Gran Canaria: 1,865
Lanzarote: 515
Fuerteventura: 290
La Palma: 106
El Hierro: 28
La Gomera: 18
Current Incidence rate (IA7): 1,499.90
(Cases last 7 days: 32,638)
La Palma: 2,111.24
El Hierro: 2,018.48
Lanzarote: 1,694.35
Tenerife: 1,497.09
Gran Canaria: 1,451.63
Fuerteventura: 1,269.50
La Gomera: 774.98
Current Incidence rate (IA14): 2,903.92
(Cases last 14 days: 62,817)
La Palma: 3,816.29
El Hierro: 3,435.90
Lanzarote: 3,271.25
Tenerife: 2,974.03
Gran Canaria: 2,721.62
Fuerteventura: 2,686.83
La Gomera: 1,863.64
General:
Covid patients in hospital: 539 (+13)
Covid patients in ICU: 85 (+1)
Home isolation: 90,632
R number: 1.14 (needs to be below 1)
PCR test positivity rate: 42.77% (should be below 4.5%)

Vaccination:
Total administered: 4,004,620
Fully vaccinated: 1,702,278 people (81.15%)
One dose: 1,810,206 people (86.30%)
Children aged 5-11: 60,456 (44.16%)
Booster doses: 629,087

Deaths last 24 hours: 5
Gran Canaria: 3 (435)
Tenerife: 2 (735)
Total deaths: 1,288

Medical Discharges in last 24 hours: 2,686
Tenerife: 1,165
Gran Canaria: 793
La Palma: 304
Lanzarote: 206
Fuerteventura: 152
El Hierro: 41
La Gomera: 25

Total Active cases per island:
Total: 91,256
Tenerife: 43,746 (+1,560)
Gran Canaria: 33,903 (+1,069)
Lanzarote: 6,594 (+309)
Fuerteventura: 4,956 (+138)
La Palma: 1,637 (-198)
El Hierro: 226 (-13)
La Gomera: 194 (-7)
Municipalities with most active cases in each island:
24,335 in Las Palmas (Gran Canaria)
18,707 in Santa Cruz (Tenerife)
8,213 in La Laguna (Tenerife)
4,184 in Arrecife (Lanzarote)
2,877 in Telde (Gran Canaria)
2,360 in Puerto del Rosario (Fuerteventura)
1,925 in Arona (Tenerife)
1,715 in Granadilla de Abona (Tenerife)
1,696 in Adeje (Tenerife)
1,322 in Puerto de La Cruz (Tenerife)
1,247 in San Bartolomé de Tirajana (Gran Canaria)
1,187 in Santa Lucia de Tirajana (Gran Canaria)
862 in La Oliva (Fuerteventura)
662 in Guia de Isora (Tenerife)
442 in San Miguel de Abona (Tenerife)
436 in Mogán (Gran Canaria)
150 in Santiago del Teide (Tenerife)
(Please note this is not all municipalities, it represents the most infected and tourist areas)