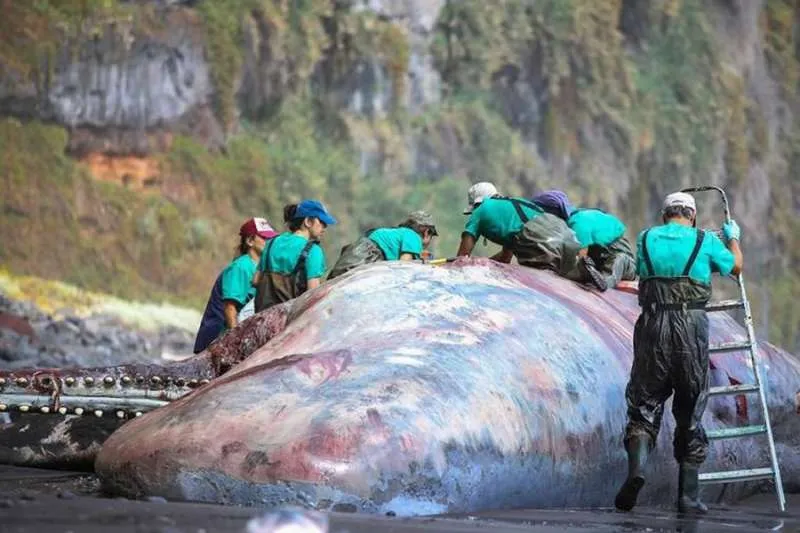 The stranded sperm whale is too big to remove from the beach
A team of ten vets from the forensic pathology unit of the University Institute of Animal Health of the ULPGC are having to carry out the necropsy on the sperm whale that was washed up on Nogales beach on Sunday, whilst it is still on the beach as the authorities have not been able to remove it.
The professor at the ULPGC (University of Las Palmas de Gran Canaria) Antonio Fernández, who is in charge of the work, has described the cetacean as "a young, male sperm whale, almost 13 metres long, that after more than 48 hours stranded, is in a state of putrefaction".
An attempt was made to remove the whale on Monday to take it to the landfill site just outside Santa Cruz de La Palma, so that they could carry out the necropsy there, but it was not possible due to the size and weight of the mammal and because the beach is too soft for the crane, so the researchers are working on the beach which isn't the ideal conditions to do so.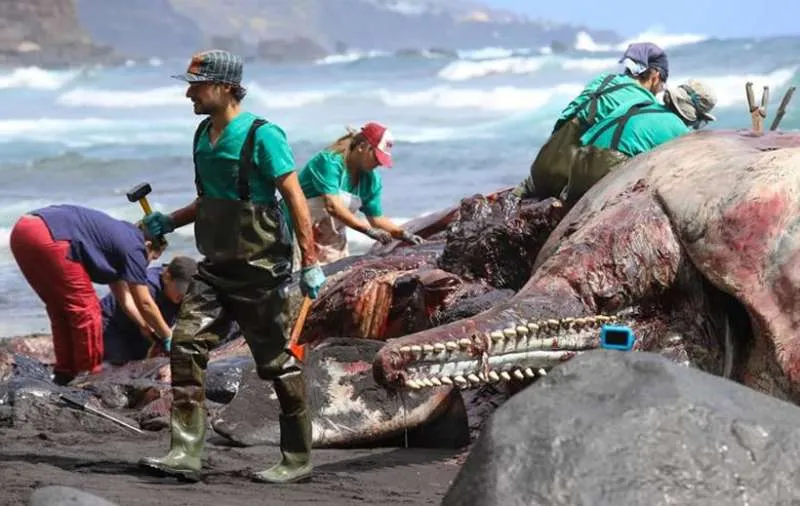 Fernández said that his team's objective is "to determine the cause of death, although it will not be easy. However, we will not speculate about what caused it, as that is irresponsible".
A photo has been released showing a fishing hook that was found inside the whale, which unfortunately is a sign of the state of the ecosystem around our islands.
"Anthropic factors, including plastics, added to the natural diseases suffered by these sea creatures, are their main causes of death", pointed out Fernández, who assures that " sperm whales are one of the jewels in the crown of marine life in the Canary Islands".
The Guardia Civil have confirmed that in the 48 hours that the sperm whale has been stranded on the beach, someone has stolen a tooth from it, which is an environmental crime punishable by the Environmental Service Protection of Nature (SEPRONA).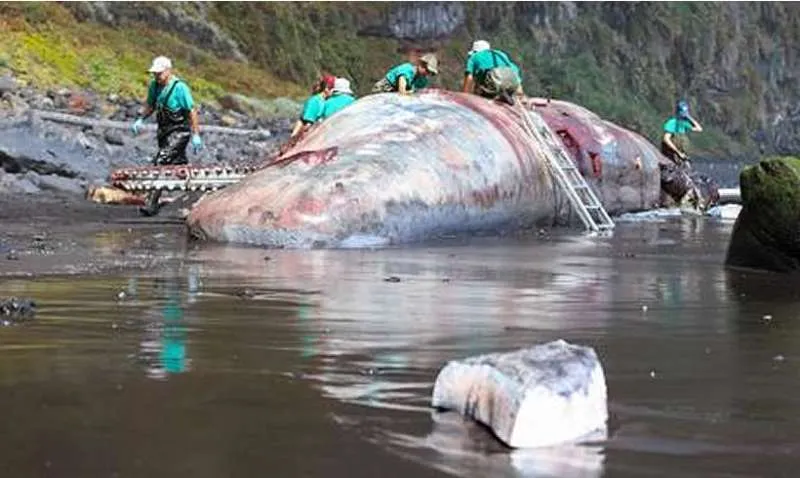 Other articles that may interest you...